Another bridge?
3rd July 1982
Page 4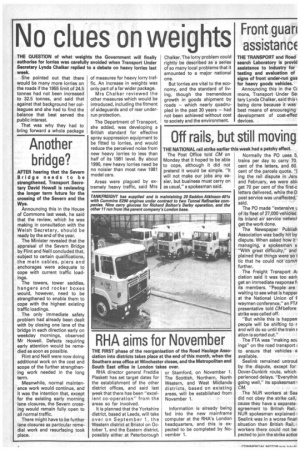 Page 4, 3rd July 1982 —
Another bridge?
Close
AFTER hearing that the Severn Bridge needs to be strengthened, Transport Secretary David Howell is reviewing the longer term future for the crossing of the Severn and the Wye.
Announcing this in the House of Commons last week, he said that the review, which he was making in consultation with the Welsh Secretary, should be ready by the end of the year.
The Minister revealed that the appraisal of the Severn Bridge by Flint and Neill concluded that, subject to certain qualifications, the main cables, piers and anchorages were adequate to cope with current traffic loadings.
The towers, tower saddles, hangers and rocker boxes would, however, need to be strengthened to enable them to cope with the highest existing traffic loadings.
The only immediate safety problem had already been dealt with by closing one lane of the bridge in each direction early on weekday mornings, observed Mr Howell. Defects requiring early attention would be remedied as soon as possible.
Flint and Neill were now doing additional work on the cost and scope of the further strengthening work needed in the long term.
Meanwhile, normal maintenance work would continue, and it was the intention that, except for the existing early morning lane closures, the Severn crossing would remain fully open to all normal traffic.
There might have to be further lane closures as particular remedial work and resurfacing took place.