Ancient and modern
3rd July 1982
Page 36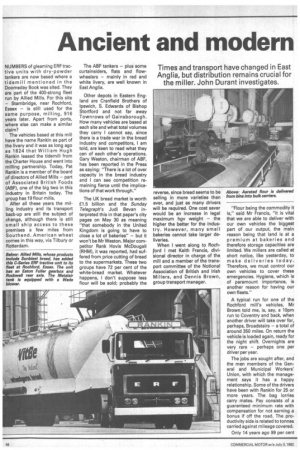 Page 37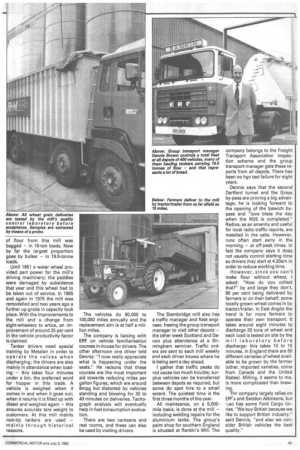 Page 36, 3rd July 1982 —
Ancient and modern
Close
NUMBERS of gleaming ERF tractive units with dry-powder tankers are now based where a tidemill mentioned in the Doomsday Book was sited. They are part of the 400-strong fleet run by Allied Mills. For this site — Stambridge, near Rochford, Essex — is still used for the same purpose, milling, 916 years later. Apart from ports, where else can make a similar claim?
The vehicles based at this mill have the name Rankin as part of the livery and it was as long ago as 1824 that William Hugh Rankin leased the tidemill from the Charter House and went into milling partnership. Today, Pat Rankin is a member of the board of directors of Allied Mills — part of Associated British Foods (ABF), one of the big two in this industry in Britain today. The group has 19 flour mills.
After all these years the milling industry and its transport back-up are still the subject of change, although there is still small ship access to these premises a few miles from Southend. American wheat comes in this way, via Tilbury or Rotterdam. The ABF tankers — plus some curtainsiders, flats and flowwheelers — mainly in red and white livery, are well known in East Anglia.
Other depots in Eastern England are Cranfield Brothers of Ipswich, S. Edwards of Bishop Stortford and not far away Townrows of Gainsborough. How many vehicles are based at each site and what total volumes they carry I cannot say, since there is a trade war in the bread industry and competitors, I am told, are keen to read what they can of each other's operations. Gary Weston, chairman of ABF, has been reported in the Press as saying: "There is a lot of over capacity in the bread industry and I can see competition remaining fierce until the implications of that work through."
The UK bread market is worth £1.5 billion and the Sunday Telegraph's Judi Bevan interpreted this in that paper's city pages on May 30 as meaning "that somebody in the United Kingdom is going to have to close a lot of bakeries" — but it won't be Mr Weston. Major competitor Rank Hovis McDougall (RHM), it was reported, had suffered from price cutting of bread to the supermarkets. These two groups have 72 per cent of the white-bread market. Whatever happens, I don't suppose less flour will be sold; probably the reverse, since bread seems to be selling in more varieties than ever, and just as many drivers will be required. One cost saver would be an increase in legal maximum hgv weight — the higher the better for the industry. However, many small bakeries cannot take larger deliveries.
When I went along to Rochford I met Keith Francis, divisional director in charge of the mill and a member of the transport committee of the Notional Association of British and Irish Millers, and Dennis Brown, group transport manager. "Flour being the commodity it is," said Mr Francis, "it is vital that we are able to deliver with our own vehicles the biggest part of our output, the main reason being that land is at a premium at bakeries and therefore storage capacities are limited. We millers are called at short notice, like yesterday, to make deliveries today. Therefore, we must control our own vehicles to cover these emergencies. Hygiene, which is of paramount importance, is another reason for having our own fleets."
A typical run for one of the Rochford mill's vehicles, Mr Brown told me, is, say, a lOpm run to Coventry and back, when another driver will take over for, perhaps, Broadstairs — a total of around 350 miles. On return the vehicle is loaded again, ready for the night shift. Overnights are very rare — perhaps one per driver per year.
The jobs are sought after, and the men members of the General and Municipal Workers' Union, with which the management says it has a happy relationship. Some of the drivers have been with Rankin for 25 or more years. The bag lorries carry mates. Pay consists of a guaranteed minimum rate with compensation for not earning a bonus if off the road. The productivity side is related to tonnes carried against mileage covered.
Only 14 years ago 99 per cent of flour from this mill was bagged — in 16-ton loads. Now by far the largest proportion goes by bulker — in 19.5-tonne loads.
Until 1951 a water wheel provided part power for the mill's driving machinery; the paddles were damaged by subsidence that year and this wheel had to be taken out of service. In 1965 and again in 1975 the mill was remodelled and two years ago a further up-grade in capacity took place. With the improvements to the mill and a change from eight-wheelers to artics, an improvement of around 25 per cent in the vehicle productivity factor is claimed.
Tanker drivers need special training by Metalair in order to operate the valves when discharging; the drivers are also mainly in attendance when loading — this takes four minutes under a bin, the preferred word for hopper in this trade. A vehicle is weighed when it comes in and when it goes out; when it returns it is filled up with diesel and weighed again — this ensures accurate tare weight to customers. At this mill mainly non-tip tankers are used — mainly through historical reasons. The vehicles do 80,000 to 100,000 miles annually and the replacement aim is at half a million miles.
The company is liaising with ERF on vehicle familiarisation courses in-house for drivers. The other afternoon one driver told Dennis: "I now really appreciate what is happening under the seats." He reckons that these courses are the most important aid towards reducing miles per gallon figures, which are around 8mpg but distorted by vehicles standing and blowing for 30 to 40 minutes on deliveries. Tachograph analysis will eventually help in fuel consumption evaluation.
There are two canteens and rest rooms, and these can also be used by visiting drivers. The Stambridge mill also has a traffic manager and fleet engineer, freeing the group transport manager to visit other depots — the other week Scotland and Devon plus attendance at a Birmingham seminar. Traffic orders are sent to each mill weekly and each driver knows where he is being sent a day ahead.
I gather that traffic peaks do not cause too much trouble; surplus vehicles can be transferred between depots as required, but some do spot hire to a small extent. The quietest time is the first three months of the year.
All mainteance, on a 5,000mile basis, is done at the mill — including welding repairs for the aluminium tanks. The group's paint shop for southern England is situated at Rankin's Mill. The company belongs to the Freight Transport Association inspection scheme and the group transport manager gets these reports from all depots. There has been no hgv test failure for eight years.
Dennis says that the second Dartford tunnel and the Grays by-pass are proving a big advantage; he is looking forward to the opening of the Ipswich bypass and "love bless the day when the M25 is completed." Radios, as an amenity and useful for local radio traffic reports, are installed in the cabs. However, runs often start early in the morning — at off-peak times. In fact the company says it does not usually control starting time so drivers may start at 4.30am in order to reduce working time.
However, since you can't make flour without wheat, asked: "How do you collect that?" by and large they don't, 90 per cent being delivered by farmers or on their behalf; some locally grown wheat comes in by tractor/trailer. In East Anglia the trend is for more farmers to operate their own transport. It takes around eight minutes to discharge 20 tons of wheat and each load is tested on site by the mill laboratory before discharge: this takes 10 to 15 minutes. In England there are 50 different varieties of wheat available to be grown by the farmer (other, imported varieties, come from Canada and the United States). Milling, it seems to me, is more complicated than brewing.
The company largely relies on ERrs and Seddon Atkinsons, but iso has some Ford Cargo lorries. "We buy British because we like to support British industry," said Dennis, "and also we consider British vehicles the best quality."