Promising update from Eastern Coach Works
3rd July 1982
Page 34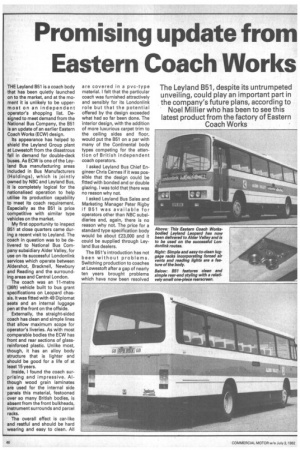 Page 35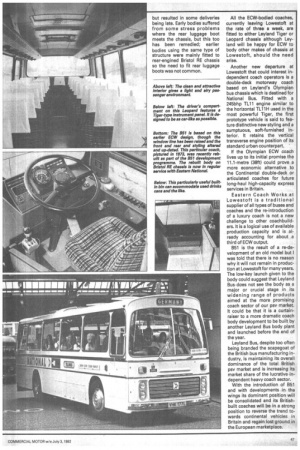 Page 34, 3rd July 1982 —
Promising update from Eastern Coach Works
Close
THE Leyland 851 is a coach body that has been quietly launched on to the market, and at the moment it is unlikely to be uppermost on an independent operator's shopping list. Designed to meet demand from the National Bus Company, the B51 is an update of an earlier Eastern Coach Works (ECW) design.
Its appearance has helped to shield the Leyland Group plant at Lowestoft from the disastrous fall in demand for double-deck buses. As ECW is one of the Leyland Bus manufacturing areas included in Bus Manufacturers (Holdings), which is jointly owned by NBC and Leyland Bus, it is completely logical for the nationalised operation to help utilise its production capability to meet its coach requirement. Especially as the B51 is price competitive with similar type vehicles on the market.
My first opportunity to inspect 851 at close quarters came during a recent visit to Leyland. The coach in question was to be delivered to National Bus Company subsidiary Alder Valley, for use on its successful Londonlink services which operate between Aldershot, Bracknell, Newbury and Reading and the surrounding areas and Central London.
The coach was an 11-metre (36ft) vehicle built to bus grant specifications on Leopard chassis. It was fitted with 49 Diplomat seats and an internal luggage pen at the front on the offside.
Externally, the straight-sided coach has clean and simple lines that allow maximum scope for operator's liveries. As with most comparable bodies the ECW has front and rear sections of glassreinforced plastic. Unlike most, though, it has an alloy body structure that is lighter and should be good for a life of at least 15 years.
Inside, I found the coach surprising and impressive. Although wood grain laminates are used for the internal side panels this material, festooned over so many British bodies, is absent from the front bulkheads, instrument surrounds and parcel racks.
The overall effect is car-like and restful and should be hard wearing and easy to clean. All are covered in a pvc-type material. I felt that the particular coach was furnished attractively and sensibly for its Londonlink role but that the potential offered by the design exceeded what had so far been done. The interior design, with the addition of more luxurious carpet trim to the ceiling sides and floor, would put the 1351 on a par with many of the Continental body types competing for the attention of British independent coach operators.
I asked Leyland Bus Chief Engineer Chris Cernes if it was possible that the design could be fitted with bonded and or double glazing. I was told that there was no reason why not.
I asked Leyland Bus Sales and Marketing Manager Peter Rigby if B51 was available for operators other than NBC subsidiaries and, again, there is no reason why not. The price for a standard type specification body would be about £23,000 and it could be supplied through Leyland Bus dealers, The 851's introduction has not been without problems. Switching production to coaches at Lowestoft after a gap of nearly ten years brought problems which have now been resolved but resulted in some deliveries being late. Early bodies suffered from some stress problems where the rear luggage boot meets the chassis, but this too has been remedied; earlier bodies using the same type of structure were mainly fitted to rear-engined Bristol RE chassis so the need to fit rear luggage boots was not common. All the ECW-bodied coaches, currently leaving Lowestoft at the rate of three a week, are fitted to either Leyland Tiger or Leopard chassis although Ley land will be happy for ECW to body other makes of chassis at Lowestoft, should the need arise.
Another new departure at Lowestoft that could interest in dependent coach operators is a double-deck motorway coach based on Leyland's Olympian bus chassis which is destined for National Bus. Fitted with a 245bhp TL11 engine similar to the horizontal TL11H used in the
most powerful Tiger, the first prototype vehicle is said to fea
ture distinctive new styling and a sumptuous, soft-furnished interior. It retains the vertical transverse engine position of its standard urban counterpart. '
If the Olympian ECW coach lives up to its initial promise the 11.1-metre (38ft) could prove a more economic alternative to the Continental double-deck or articulated coaches for future long-haul high-capacity express services in Britain.
Eastern Coach Works at Lowestoft is a traditional supplier of all types of buses and coaches and the re-introduction of a luxury coach is not a new challenge to other coachbuilders. It is a logical use of available production capacity and is already accounting for about a third of ECW output.
B51 is the result of a re-development of an old model but I was told that there is no reason why it will not remain in production at Lowestoft for many years.
The low-key launch given to the body could suggest that Leyland Bus does not see the body as a major or crucial stage in its widening range of products aimed at the more promising coach sector of our psv market.
It could be that it is a curtainraiser to a more dramatic coach body development to be built by another Leyland Bus body plant and launched before the end of the year.
Leyland Bus, despite too often being branded the scapegoat of the British bus manufacturing in1 dustry, is maintaining its overall dominance of the total British psv market and is increasing its market share of the lucrative independent heavy coach sector. With the introduction of B51 and with developments in the wings its dominant position will be consolidated and its British built coaches will be in a strong position to reverse the trend to wards continental vehicles in Britain and regain lost ground in the European marketplace.