Diversification that's the name of the game
3rd July 1982
Page 30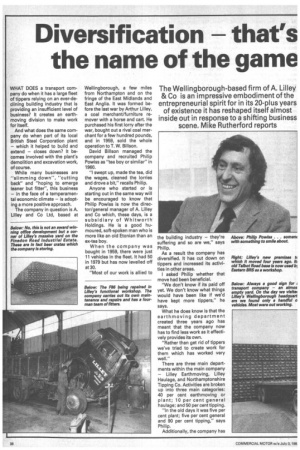 Page 31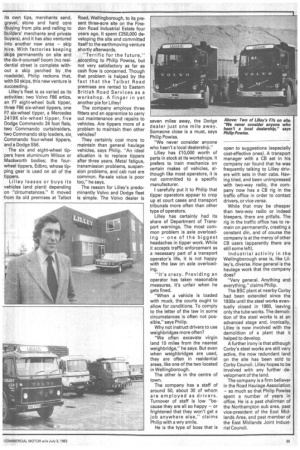 Page 30, 3rd July 1982 —
Diversification that's the name of the game
Close
WHAT DOES a transport company do when it has a large fleet of tippers relying on an ever-declining building industry that is providing an insufficient level of business? It creates an earthmoving division to make work for itself.
And what does the same company do when part of its local British Steel Corporation plant — which it helped to build and extend — closes down? It becomes involved with the plant's demolition and excavation work, of course.
While many businesses are "slimming down", "cutting back" and "hoping to emerge leaner but fitter", this business — in the face of a temperamental economic climate — is adopting a more positive approach.
The company in question is A. Lilley and Co Ltd, based at Wellingborough, a few miles from Northampton and on the fringe of the East Midlands and East Anglia. It was formed before the last war by Arthur Lilley, a coal merchant/furniture remover with a horse and cart. He purchased his first lorry after the war, bought out a rival coal merchant for a few hundred pounds, and in 1959, sold the whole operation to T. W. Billson.
David Billson managed the company and recruited Philip Powiss as "tea boy or similar" in 1960.
"I swept up, made the tea, did the wages, cleaned the lorries and drove a bit," recalls Philip.
Anyone who started or is starting out in the same way will be encouraged to know that Philip Powiss is now the director/general manager of A. Lilley and Co which, these days, is a subsidiary of Whitworth Holdings. He is a good humoured, soft-spoken man who is more like an old Etonian than an ex-tea boy.
When the company was bought in 1959, there were just 11 vehicles in the fleet. It had 50 in 1979 but has now levelled off at 30.
"Most of our work is allied to the building industry — they're suffering and so are we," says Philip.
As a result the company has diversified. It has cut down on tippers and increased its activities in other areas.
I asked Philip whether that move had been beneficial.
"We don't know if its paid off yet. We don't know what things would have been like if we'd have kept more tippers," he says.
What he does know is that the earthmoving department created three years ago has meant that the company now has to find less work as it effectively provides its own.
"Rather than get rid of tippers we've tried to create work for them which has worked very well."
There are three main departments within the main company — Lilley Earthmoving, Lilley Haulage, and Northamptonshire Tipping Co. Activities are broken up into three main categories: 40 per cent earthmoving or plant; 10 per cent general haulage; and 50 per cent tipping.
"In the old days it was five per cent plant; five per cent general and 90 per cent tipping," says Philip.
Additionally, the company has its own tips, merchants sand, gravel, stone and hard core (buying from pits and felling to builders' merchants and private buyers), and it has also ventured into another new area — skip hire. With factories keeping skips permanently on site and the do-it-yourself boom (no residential street is complete without a skip perched by the roadside), Philip reckons that, with 50 skips, this new venture is succeeding.
LiIley's fleet is as varied as its activities: two Volvo F86 artics, an F7 eight-wheel bulk tipper, three F86 six-wheel tippers, one F7 six-wheel tipper, a Mercedes 2419K six-wheel tipper, five Dodge Commando 24 foot flats, two Commando curtainsiders, two Commando skip loaders, six, Commando four-wheel tippers, and a Dodge S56.
The six and eight-wheel tippers have aluminium Wilcox or Mackworth bodies; the fourwheel tippers, Edbro, whose tipping gear is used on all of the tippers.
Lilley leases or buys its vehicles (and plant) depending on "circumstances." It moved from its old premises at Talbot Road, Wellingborough, to its present three-acre site on the Finedon Road Industrial Estate four years ago. It spent £250,000 developing the site and committed itself to the earthmoving venture shortly afterwards.
"Terrific for the future," according to Philip Powiss, but not very satisfactory as far as cash flow is concerned. Though that problem is helped by the fact that the Talbot Road premises are rented to Eastern British Road Services as a workshop. A finger in yet another pie for Lilley!
The company employs three fitters and an apprentice to carry out maintenance and repairs to vehicles. Are tippers more of a problem to maintain then other vehicles?
They certainly cost more to maintain than general haulage vehicles, says Philip. "An ideal situation is to replace tippers after three years. Metal fatigue, transmission problems, suspension problems, and cab rust are common. Re-sale value is poor too," he says.
The reason for LiIley's predominantly Volvo and Dodge fleet is simple. The Volvo dealer is seven miles away, the Dodge dealer just one mile away. Someone close is a must, says Philip Powiss.
"We never consider anyone who hasn't a local dealership."
Lilley has £10,000 worth of parts in stock at its workshops. It prefers to train mechanics on certain makes of vehicles, although like most operators, it is not committed to a specific manufacturer.
I carefully put it to Philip that tipper operators appear to crop up at court cases and transport tribunals more often than other type of operators.
Lilley has certainly had its share of Department of Transport warnings. The most common problem is axle overloading — one of the biggest headaches in tipper work. While it accepts traffic enforcement as a necessary part of a transport operator's life, it is not happy with the law on axle overloading.
"It's crazy. Providing an operator has taken reasonable measures, it's unfair when he gets fined.
"When a vehicle is loaded with muck, the courts ought to allow for conditions. To comply to the letter of the law in some circumstances is often not possible," says Philip.
Why not instruct drivers to use weighbridges more often?
"We often excavate virgin land 10 miles from the nearest weighbridge," he says. But even when weighbridges are used, they are often in residential areas, like one of the two located in Wellingborough.
The other is in the centre of town.
The company has a staff of around 50, about 30 of whom are employed as drivers. Turnover of staff is low "because they are all so happy — or frightened that they won't get a job anywhere else," claims Philip with a wry smile.
He is the type of boss that is open to suggestions (especially cost-effective ones). A transport manager with a CB set in his company car found that he was frequently talking to Lilley drivers with sets in their cabs. Having fried, and been unimpressed with two-way radio, the company now has a CB rig in the traffic office in order to contact drivers, or vice versa.
While that may be cheaper than two-way radio or indeed bleepers, there are pitfalls. The rig in the traffic office has to remain on permanently, creating a constant din, and of course the company is at the mercy of other CB users (apparently there are still some left).
Industrial activity in the Wellingborough area is, like Lilley's, diverse. How general is the haulage work that the company does?
"Very general. Anything and everything," claims Philip.
The BSC plant at nearby Corby had been extended since the 1930s until the steel works eventually closed in 1980, leaving only the tube works. The demolition of the steel works is at an advanced stage and, ironically, Lilley is now involved with the demolition of a plant that it helped to develop.
A further irony is that although Corby's steel works are still very active, the now redundant land on the site has been sold to Corby Council. Lilley hopes to be involved with any further development of the land.
The company is a firm believer in the Road Haulage Association — so much so that Philip Powiss spent a number of years in office. He is a past chairman of the Northampton sub area, past vice-president of the East Midlands Area, and past member of the East Midlands Joint Industrial Council.