NBC cuts warning
3rd July 1982
Page 13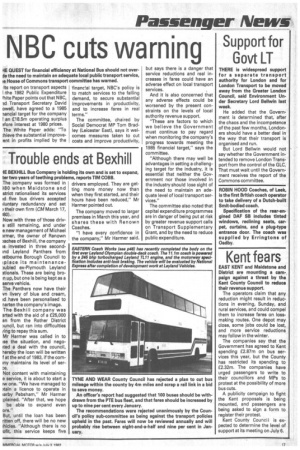 Page 13, 3rd July 1982 —
NBC cuts warning
Close
HE QUEST for financial efficiency at National Bus should not overle the need to maintain an adequate local public transport service, le House of Commons transport committee has warned.
Its report on transport aspects f the 1982 Public Expenditure fhite Paper points out that NBC, id Transport Secretary David owell, have agreed to a 1985 nancial target for the company f an £18.5m operating surplus gore interest at 1980 prices. The White Paper adds: "To :hieve the substantial improveant in profits implied by the
financial target, NBC's policy is to match services to the falling demand, to secure substantial improvements in productivity, and to increase fares in real terms."
The committee, chaired by Social Democrat MP Tom Bradley (Leicester East), says it welcomes measures taken to cut costs and improve productivity, but says there is a danger that service reductions and real increases in fares could have an adverse effect on local transport services.
And it is also concerned that any adverse effects could be worsened by the present constraints on the levels of local authority revenue support.
"These are factors to which we believe the Government must continue to pay regard when monitoring the company's progress towards meeting the 1985 financial target," says the committee.
"Although there may well be advantages in setting a challenging target for the industry, it is essential that neither the Government nor those involved in the industry should lose sight of the need to maintain an adequate level of local transport services."
The committee also noted that capital expenditure programmes are in danger of being put at risk by greater revenue support calls on Transport Supplementary Grant, and by the need to reduce public expenditure.