Technical News
3rd July 1982
Page 10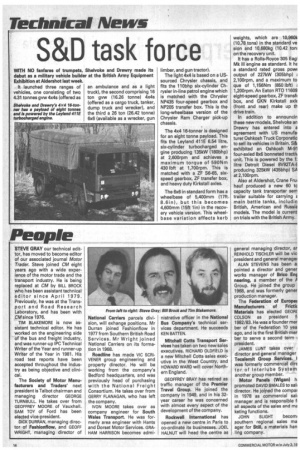 Page 10, 3rd July 1982 —
Technical News
Close
S&D task force
WITH NO fanfares of trumpets, She!yoke and Drewry made its debut as a military vehicle builder at the British Army Equipment Exhibition at Aldershot last week.
It launched three ranges of vehicles, one consisting of two 4.31 tonnes gvw 4x4s (offered as
Shelvoke and Drewry's 4x4 76-tonner has a payload of eight tonnes and is powered by the Leyland 411E turbocharged engine.
an ambulance and as a light truck), the second comprising 16 ton gvw (16.26 tonne) 4x4s (offered as a cargo truck, tanker, dump truck and wrecker), and the third a 26 ton (26.42 tonne) 6x6 (available as a wrecker, gun limber, and gun tractor).
The light 4x4 is based on a USsourced Chrysler chassis, and fits the 110bhp six-cylinder Chrysler in-line petrol engine which is matched with the Chrysler NP435 four-speed gearbox and NP205 transfer box. This is the long-wheelbase version of the Chrysler Ram Charger pick-up chassis.
The 4x4 16-tanner is designed for an eight tonne payload. This fits the Leyland 411E 6.54 litre, six-cylinder turbocharged engine producing 135kW (180bhp) at 2,600rpm and achieves a maximum torque of 590Nm 430 lbft at 1,700rpm. This is matched with a ZF S6-65, sixspeed gearbox, ZF transfer box, and heavy duty Kirkstall axles.
The 6x6 in standard form has a wheelbase of 5,400mm (17ft, 8.6in), but this becomes 4,600mm (15ft lin) in the recovery vehicle version. This wheelbase variation affects kerb weights, which are 10,960k (10.78 tons) in the standard ye sion and 10,680kg (10.42 ton: on the recovery unit.
It has a Rolls-Royce 305 Eagl Mk III engine as standard. It he a standard rated gross pow( output of 227kW (305bhp) 2,100rpm, and a maximum to que of 1,156Nm (850 Ibft) 1,200rpm. An Eaton RTO 11609 eight-speed gearbox, ZF transf( box, and GKN Kirkstall axle (front and rear) make up th drive train.
In addition to announcin these new models, Shelvoke an Drewry has entered into a agreement with US manufal turer Oshkosh Truck Corporatio to sell its vehicles in Britain. S& exhibited an Oshkosh M-91 four-axled 8x6 bonneted tractiv unit. This is powered by the 1: litre Detroit Diesel 8V92TA-E producing 325kW (435bhp) SA at 2,100rpm.
Also at Aldershot, Crane Frui hauf produced a new 60 to capacity tank transporter soul trailer suitable for carrying a main battle tanks, includin British, American and Russia models. The model is current] on trials with the British Army.