STEVE GRAY our technical edittor, has moved to become editor
3rd July 1982
Page 10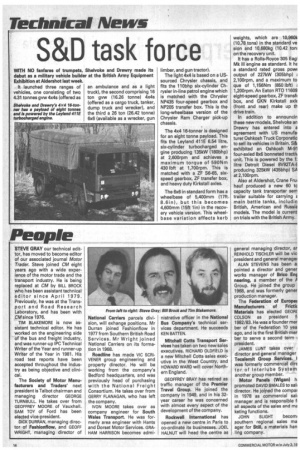 Page 10, 3rd July 1982 —
STEVE GRAY our technical edittor, has moved to become editor
Close
of our associated journal Motor Trader. Steve joined CM eight years ago with a wide experience of the motor trade and the transport industry. He is being replaced at CM by BILL BROCK who has been assistant technical editor since April 1979. Previously, he was at the Transport and Road Research Laboratory, and has been with CM since 1976.
TIM BLAKEMORE is now assistant technical editor. He has worked on the engineering side of the bus and freight industry, and was runner-up IPC Technical Writer of the Year and runner-up Writer of the Year in 1981. His road test reports have been accepted throughout the industry as being objective and clinical.
The Society of Motor Manufacturers and Traders' next president is Talbot chairman and managing director GEORGE TURNBULL. He takes over from GEOFFREY MOORE of Vauxhall. SAM TOY of Ford has been elected vice-president.
DICK DURRAN, managing director of Fashionflow, and GEOFF WRIGHT, managing director of
National Carriers parcels division, will exhange positions. Mr Durran joined Fashionflow in 1977 from Southern British Road Services. Mr Wright joined National Carriers on its formation in 1968.
Roadline has made VIC SCRIVENER group engineering and property director. He will be working from the company's Bedford headquarters, and was previously head of purchasing with the National Freight Consortium. He takes over from GERRY FLANAGAN, who has left the company.
IVON MOORE takes over as company engineer for South Wales Transport. He was formerly area engineer with Hants and Dorset Motor Services. GRAHAM HARRISON becomes admi
nistrative officer in the National Bus Company's technical services department. He succeeds KEN BATTEN.
Mitchell Cotts Transport Services has taken on two new sales executives. RICHARD OLDFIELD is a new Mitchell Cotts sales executive in the West Country, and HOWARD WARD will cover Northern England.
GEOFFREY BRAY has retired as traffic manager of the Premier Travel Group. He joined the company in 1949, and in his 32year career he was concerned with almost every aspect of the development of the company.
Rockwell International has opened a new centre in Paris to co-ordinate its businesses. JOEL HALNUT will head the centre as
general managing director, ar ,REINHOLD TISCHLER will be vici president and general manager
ALAN STEVENS has been al pointed a director and gener works manager of Brico Eng neering, a member of the A Group. He joined the group 1968, and was formerly goner production manager.
The Federation of Europeg Manufacturers of Frictic Materials has elected GEORC COLSON as president fi 1982/83. He was a founder mer ber of the Federation 10 yea ago, and is the first British mer ber to serve a second term president.
JAMES LUNT takes over director and general manager Tecalemit Group Services. I was formerly commercial dire tor of Interlube System another group member.
Motor Panels (Wigan) h promoted DAVID SMALES to sali director. He joined the compar in 1978 as commercial sail manager and is responsible f all aspects of the sales and ma keting functions.
JOHN SLIGHT becomi southern regional sales ma ager for Still, a materials han ling company.
Tags
People
:
GEOFFREY BRAY
,
GRAHAM HARRISON
,
GEORGE TURNBULL
,
HOWARD WARD
,
JAMES LUNT
,
DAVID SMALES
,
TIM BLAKEMORE
,
GERRY FLANAGAN
,
REINHOLD TISCHLER
,
JOHN SLIGHT
,
JOEL HALNUT
,
RICHARD OLDFIELD
,
GEOFF WRIGHT
,
BILL BROCK
,
ALAN STEVENS
,
KEN BATTEN
,
GEOFFREY MOORE
,
Mitchell Cotts
,
STEVE GRAY
,
DICK DURRAN