Electric vehicles get the Royal Assent
3rd January 1981
Page 36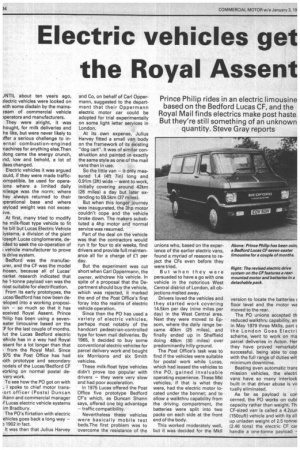 Page 37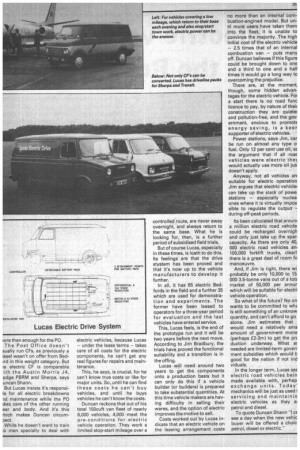 Page 36, 3rd January 1981 —
Electric vehicles get the Royal Assent
Close
Keywords :
Alternative Propulsion
,
Vehicles
,
Sustainability
,
Environmental Technology
,
Green Vehicles
,
Electric Vehicles
,
Vans
,
Electrification
,
Battery Electric Vehicle
,
Bedford Cf
,
Mail Truck
,
Morris Commercial J4
Prince Philip rides in an electric limousine based on the Bedford Lucas CF, and the Royal Mail finds electrics make post haste. But they're still something of an unknown quantity. Steve Gray reports
JNTIL about ten years ago, :lectric vehicles were looked on with some disdain by the mainsream of commercial vehicle aperators and manufacturers.
They were alright, it was hought, for milk deliveries and he like, but were never likely to )ffer a serious challenge to inernal combustion-engined nachines for anything else.Then llong came the energy crunch, Ind, low and behold, a lot of deas changed.
Electric vehicles it was argued ;ould, if they were made traffic;ompatible, be used for operaions where a limited daily nileage was the norm; where hey always returned to their )perational base and where myload weight was not exces;ive.
At first, many tried to modify he milk-float type vehicle to fit he bill but Lucas Electric Vehicle ;ystems, a division of the giant loseph Lucas conglomerate, de:ided to seek the co-operation of vehicle manufacturer to prove ts drive system.
Bedford was the manufacurer, and the CF was the model :hosen, because all of Lucas' narket research indicated that he 1-tonne payload van was the nost suitable for electrification. From its early prototypes, the .ucas/Bedford has now been de:eloped into a working proposiion — so much so that it has eceived Royal Assent. Prince 'hilip has been using a seveneater limousine based on the :F for the last couple of months. Sul the Lucas Bedford electric :ehicle has in a way had Royal ssent for a lot longer than that from the Royal Mail, Since 975 the Post Office has had loth prototype and secondary node's of the Lucas/Bedford CF vorking on normal postal devery work.
To see how the PO got on with I spoke to chief motor transport officer (Posts) Duncan ;harm and commercial manager pf Lucas electric vehicle systems im Bradbury.
The PO's flirtation with electric ehicles goes back a long way — a 1902 intact.
It was then that Julius Harvey and Co, on behalf of Carl Oppermann, suggested to the department that their Oppermann electric motor car could be adopted for trial experimentally on some light letter services in London.
At its own expense, Julius Harvey fitted a small van body on the framework of its existing "dog cart". It was of similar construction and painted in exactly the same style as one of the mail vans then in use.
So the little van — it only measured 1.4 (4ft 7in) long and 0.91m (3ft) wide — went to work, initially covering around 42km (26 miles) a day but later extending to 59.5km (37 miles).
But when this longer journey was inaugurated, the 3hp motor couldn't cope and the vehicle broke down. The makers substituted a 4hp motor and normal service was resumed.
Part of the deal on the vehicle was that the contractors would run it for four to six weeks, find drivers and provide full maintenance all for a charge of £1 per day.
But the experiment was cut short when Carl Oppermann, the owner, withdrew his vehicle. In spite of a proposal that the Department should buy the vehicle, which was rejected, it marked the end of the Post Office's first foray into the realms of electric vehicle operation.
Since then the PO has used a variety of electric vehicles, perhaps most notably of the handcart pedestrian-controlled type for town mail deliveries. By 1965, it decided to buy some conventional electric vehicles for parcel delivery work and bought six Morrisons and six Smith vehicles.
These milk-float type vehicles didn't prove too popular with drivers — they were very slow and had poor acceleration.
In 1975 Lucas offered the Post Office five prototype Bedford CF's which, as Duncan Shann says, offered one big advantage — traffic compatibility.
Nevertheless these vehicles were basically mobile test beds.The first problem was to overcome the resistance of the unions who, based on the experience of the earlier electric vans, found a myriad of reasons to reject the CFs even before they were tried.
But when they were persuaded to have a go with one vehicle in the notorious West Central district of London, all objections melted away.
Drivers loved the vehicles and they started work covering 14.5km per day (nine miles per day) in the West Central area. Next they were moved to Epsom, where the daily range became 40km (25 miles), and finally ended up in Sheffield doing 48km (30 miles) over predominantly hilly ground.
The Post Office's task was to find if the vehicles were suitable for postal work while Lucas, which had leased the vehicles to the PO, gained invaluable operating experience. These Mk1 vehicles, if that is what they were, had the electric motor located under the bonnet; and to allow a walkthru capability from the driving compartment, the batteries were split into two packs on each side at the front end of the body.
This worked moderately well, but it was decided for the Mk11 version to locate the batteries floor level and the motor wa moved to the rear.
The PO unions accepted th reduced walkthru capability, an in May 1979 three Mklls, part c the London Goes Electri scheme, went to work on ma parcel deliveries in Acton. Her they have proved remarkabl successful, being able to cop with the full range of duties wit minimum downtime.
Beating even automatic trans mission vehicles, the electri vans have so many interlock built in that driver abuse is vii tually eliminated.
As far as payload is con cerned, the PO works on cubi capacity rather than weight. Thp CF-sized van is called a 4.2cun (150cuft) vehicle and with its al up unladen weight of 2.5 tonne: (2.46 tons) the electric CF car handle a one-tonne payload lore than enough for the PO. The Post Office doesn't sually run CFs, as previously a iesel wasn't on offer from Bed)rd in this weight category. But le electric CF is comparable ith the Austin Morris J4, odge PBRM and Sherpa, says uncan Shann.
But Lucas insists it's responsile for all electric breakdowns id maintenance while the PC) lkes. care of the other running ear and body. And it's this fhich makes Duncan circumDect.
While he doesn't want to train is men specially to deal with electric vehicles, because Lucas under the lease terms takes care of all costs for the electric components, he can't get any real figures for repairs and maintenance.
This, he says, is crucial, for he can't know true costs or like for major units. So, until he can find these costs he can't buy vehicles, and until he buys vehicles he can't know the costs.
Duncan reckons that out of his total 150cuft van fleet of nearly 6,000 vehicles, 4,000 meet the pre-conditions for electric vehicle operation. They work a limited stop-start mileage over a controlled route, are never away overnight, and always return to the same base. What he is looking for, then, is a further period of subsidised field trials.
But of course Lucas, especially in these times, is loath to do this. Its feelings are that the drive stystem has been proved and that it's now up to the vehicle manufacturers to develop it further.
In all, it has 65 electric Bedfords in the field and a further 35 which are used for demonstration and experiments. The former have been leased to operators for a three-year period for evaluation and the last vehicles have entered service.
This, Lucas feels, is the end of the prototype run and it will be two years before the next move. According to Jim Bradbury, the trials have proved the functional suitability and a transition is in the offing.
Lucas will need around two years to get the components onto a production basis but it can only do this if a vehicle builder (or builders) is prepared to take substantial quantities. At this time vehicle makers are having difficulty in selling their wares, and the option of electric improves the motive to sell.
Costs worked out by Lucas indicate that an electric vehicle on the leasing arrangement costs no more than an internal cambustion-engined model, But until more users have taken them into the fleet, it is unable to convince the majority. The high initial cost of the electric vehicle 2.5 times that of an internal combustion van puts many off. Duncan believes if this figure could be brought down to one and a third to one and a half times it would go a long way to overcoming the prejudice.
There are, at the moment, though, some hidden advantages for the electric vehicle. For a start there is no road func licence to pay, by nature of their construction they are quieter and pollution-free, and the gov• ernment, anxious to promotE energy saving, is a keer supporter of electric vehicles.
Power stations, says Jim, car be run on almost any type o. fuel. Only 12 per cent use oil, sc the argument that if all roac vehicles were electric the\ would actually use more oil jus doesn't apply.
Anyway, not all vehicles arc suitable for electric operation Jim argues that electric vehicle! can take up the slack of powe stations especially nuclea ones where it is virtually impos sible to regulate the output during off-peak periods.
Its been calculated that arounc a million electric road vehicle: could be recharged overnigh and only just take up the span capacity. As there are only 40, 000 electric road vehicles an 100,000 forklift trucks, cleanl' there is a great deal of room fo manoeuvre.
And, if Jim is right, there wi probably be only 10,000 to 15 000 3.5-tonne vans out of a tote market of 50,000 per annur which will be suitable for electri vehicle operation.
So what of the future? No on wants to be committed to whE is still something of an unknow quantity, and can't afford to go alone. Jim estimates that would need a relatively sma amount of government mone (perhaps E2-3m) to get the prc duction underway. What at needed are limited-term goverr ment subsidies which would good for the nation if not ind viduals.
In the longer term, Lucas seE electric road vehicles bein made available with, perhap exchange units. Today' mechanics will be just as used I servicing and maintainin electric vehicles as they al petrol and diesel.
To quote Duncan Shann "I cz see a day when the new vehic buyer will be offered a choic petrol, diesel or electric."