PLYWOOD FOR BODY CONSTRUCTION.
3rd January 1928
Page 61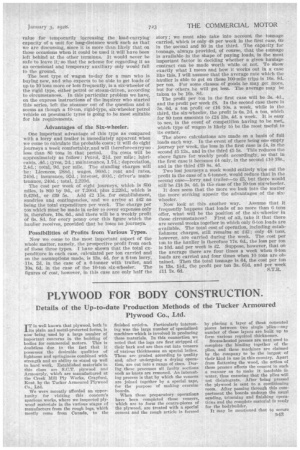 Page 62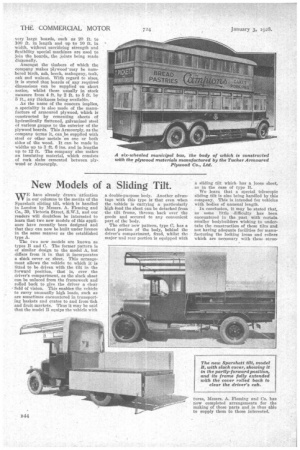 Page 61, 3rd January 1928 —
PLYWOOD FOR BODY CONSTRUCTION.
Close
Details of the Up-to-date Production Methods of the Tucker Armoured Plywood Co., Ltd.
IT is well known that plywood, both in its plain and metal-protected forms, is now being used by a large number of important concerns in the building of bodies for commercial motors. This is doubtless due to the fact that it possesses the desirable qualities of lightness and springiness combined with strength and an ability to stand up well to hard work. Established materials in this class are S.C.T. plywood and Armourply, which are manufactured at the Creek Mill Ply Works, Crayford, Kent by the Tucker Armoured Plywood Co., lad.
We were recently affonled in opportunity for visiting this concern's spacious works, where we inspected plywood materials in the various stages of manufacture from the rough logs, which mostly come from Canada, to the finished articles. Particularly interesting was the large number of specialized machines which is involved in producing these materials. In this connection we noted that the logs are first stripped cf their bark and are then cut into veneers of various thicknesses on special lathes. These are graded according to quality and, after undergoing a drying operation, are cut into a range of sizes. During these processes all faulty sections such as knots are removed. An interesting process is that by which the veneers are joined together by a special tape, for the purpose of making oversize boards.
When these preparatory operations have been completed those veneers, which are to form the centre-pieces of the plywood, are treated with a special cement and the rough article is formed by placing a layer of these cemented pieces between two single plies-any number of these layers are built up to form various required thicknesses.
Steam-heated presses are next used to complete the binding together of the plies, and these machines are claimed by the company to be the largest of their kind in use in this country. Apart from flattening the wood, the action of these presSes affects the cement in such a manner as to make it insoluble in water, thus ensuring that the plies will not disintegrate. After -being pressed the plywood is sent to a conditioning room. After passing through this compartment the boards undergo the usual sanding, trimming and finishing operations and the complete material is ready for the bodybuilder.
It may be mentioned that to secure 1343 very large boards, such as 20 ft. to 100 ft. in length and up to 10 ft. in width, without sacrificing strength and flexibility special machines are used to join the boards, the joints being made diagonally.
Amongst the timbers of which the company mates plywood may be numbered birch, ash, beech, mahogany, teak, oak and walnut. With regard to sizes, It is stated that boards of any required dimensions can be supplied on short notice, whilst those usually in stock measure from 4 ft. by 2 ft. to 8 ft. by ii ft., any thickness being available.
As the name of the concern implies, a speciality is also made of the manufacture of armoured plywood, which is constructed by cementing sheets of hydraulically flattened, galvanized steel of various gauges to the exterior of the plywood boards. This Arrnourply, as the company terms it, can be supplied with steel or other metals on one or both sides of the wood. It can be made in widths up to 3 ft. 6 ins. and in lengths up to 12 ft. The company also makes an insulating material, which consists of cork slabs cemented between plywood or Annourply.