Correspondence.
3rd January 1907
Page 18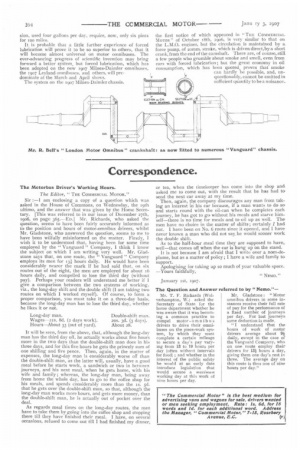 Page 19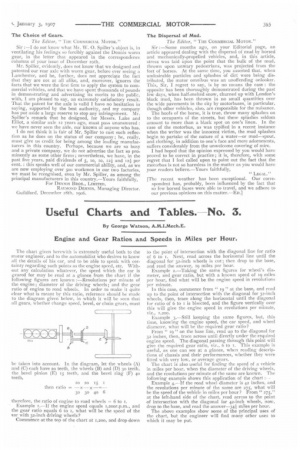 Page 18, 3rd January 1907 —
Correspondence.
Close
The Motorbus Driver's Working Hours.
The Editor, "THE COMMERCIAL MOTOR."
Sir :--1 am enclosing a copy of a question which was asked in the House of Commons, on Wednesday, the igth ultimo, and the answer that was given by the Home Secretary. [This was referred to in our issue of December 27th, rgo6, on page 365.--ED.1 Mr. Richards, who asked the question, seems to have been fairly accurately informed as to the position and hours of motor-omnibus drivers, whilst Mr. Gladstone, who answered the question, seems to me to have been wilfully misinformed on the matter. Firstly, I wish it to be understood that, having been for some time employed by the " Vanguard " Company, I think I know the subject on which I am writing very well, Mr. Gladstone says that, on one route, the "Vanguard" Company employs its men for 13,1 hours daily. He would have been considerably nearer the mark if lie had said that, on six routes out of the eight, the men are employed for about 76 hours daily, and compelled to lose the third day (without pay). Perhaps your readers will understand me better if I give a comparison between the two systems of working, viz., the long-day shift and the double shift (I am taking two routes on which I worked myself). Of course, to form a proper comparison, you must take it on a three-day basis, because the long-day man has to lose the third day, whether he likes it or not.
Long-day man. Double-shift man.
Wages-21S, 8d, (2 days work). 205. 3d. (3 days). Hours—About 33 (out of yard). About 28.
It will be seen, from the above, that, although Lhe long-day man has the third day off, he actually works about five hours more in the two days than the double-shift man does in his three days, and for this five hours he gets the princely sum of one shilling and five pence. Then, again, in the matter of expenses, the long-day man is considerably worse off than the double-shift man, as the latter will, usually, have a good meal before he starts work, a sandwich or two in between journeys, and his next meal, when he gets home, with his wife and family; whereas, the long-day man, being away from home the whole day, has to go to the coffee shop for his meals, and spends considerably more than the Is. 5d. that he gets over the double-shift man, so that, although the long-day man works more hours, and gets more money, than the double-shift man, he is actually out of pocket over the deal.
As regards meal times on the long-day routes, the men have to take them by going into the coffee shop and stopping there till they have finished their meal. I have, on several occasions, refused to come out till I had finished my dinner, or tea, when the timekeeper has come into the shop and asked me to come out, with the result that he has had to. send the next car away at my time. Then, again, the company discourages any man from taking an interest in his car because, if a man wants to do so. and starts round with the oil-can when he completes each journey, he has got to go without his meals and starve himself—there is no time for meals and to oil up as well. The men have no choice in the matter of shifts; certainly .1 had not. I have been on No. 6 route since it opened, arid I have never known a man who did, not say he would sooner work the double shift.
As to the half-hour meal time they are supposed to have, well—that comes off when the car is hung up on the stand.
It is not because I am afraid that I write over a nom-deplume, but as a matter of policy ; I have a wife and family to. support.
Apologising for taking up so much of your valuable space. —Yours faithfully, " NEMO." January 1st, 1907.
The Question and Answer referred to by " Nemo."— Mr. T. F. Richards (Wolverhampton, W.) asked the Secretary of State for the home department whether he was aware that it was becoming a common practice to compel motor -omnibus drivers to drive their omnibuses on the piece-work system, by which they must complete a certain mileage to secure a day's pay varying from 13 to 19 hours per day (often withont intervals for food) ; and whether in the interest of the public safety he would at an early date introduce legislation that would secure a maximum working day at this work of nine hours per day, Mr. Gladstone; "Motor omnibus drivers in some instances receive their full rate of pay for the performance of a fixed number of journeys per day. For lost journeys some deduction is made.
"I understand that the hours of work of motor drivers average about
daily, except in the case of the Vanguard Company, who on one route employ their drivers for 131 hours a day, giving them one day's rest in three. The average day on this route is thus one of nine hours per day." The Choice of Gears.
The Editor, Tim COMMERCIAL MOTOR."
Sir :—I do not know what Mr. W. 0. Spiller's object is, in ventilating his feelings so forcibly against the Dennis worm gear, in the letter that appeared in the correspondence columns of your issue of December 20th.
Mr. Spiller, evidently, does not know that we designed and patented our rear axle with worm gear, before ever seeing a Lanchester, and he, further, does not appreciate the fact that they are not at all alike, and, moreover, ignores the facts that we were the first firm to apply the system to commercial vehicles, and that we have spent thousands of pounds in demonstrating and advertising its merits to the public, with, I am pleased to say, an extremely satisfactory result. That the patent for the axle is valid I have no hesitation in saying, supported by the best authority, and my company has put aside a large reserve to stop any infringement. Mr. Spiller's remark that he designed, for Messrs. Lake and Elliot, a similar axle 12 years ago, must pass unanswered : we have never seen the axle, nor known of anyone who has.
I do not think it is fair of Mr. Spiller to cast such reflection as he does on the status of our company ; he, really, rnust give us credit for being among the leading manufacturers in this country. Perhaps, because we are so busy and a private company, we do not advertise the fact so prominently as some other firms; nevertheless, we have, in the past five years, paid dividends of 5, ro, To, rzh and 12i per cent. : this speaks well of our commercial ability, and, as we are now employing over 5oo workmen in our two factories, we must be recognised, even by Mr. Spitler, as among the principal manufacturers in this country.—Yours faithfully,
For DENNIS BROS., LIMITED, RAYMOND DENNIS, Managing Director. Guildford, December 28th, 1906.
The Dispersal of Mud.
The Editor, "THE COMMERCIAL. MOTOR."
Sir :—Some months ago, on your Editorial page, an article appeared dealing with the dispersal of mud by horsed and mechanically-propelled vehicles, and, in this article, stress was laid upon the point that the bulk of the mud, thrown upon unwary pedestrians, was projected from the feet of horses. At the same time, you asserted that, when undesirable particles and splashes of dirt were being distributed, the motor omnibus was an unoffending onlooker. This, Sir, I regret to say, is by no means the case ; the opposite has been thoroughly demonstrated during the past few days, when half-melted snow, churned up with London's black mud, has been thrown in no small quantities over the wide pavements in the city by motorbuses, in particular, though other vehicles, also, are responsible for the nuisance.
The hoofs of the horse, it is true, throw many splashes on to the occupants of the streets, but these splashes seldom amount to more than a black spot on one's linen. In the case of the motorbus, as was typified in a recent instance when the writer was the innocent Victim, the mud splashes begin to partake of the nature of a water—or mud—spout, and clothing, in addition to one's face and mere adornments, suffers considerably from the unwelcome covering of mire. had hoped that the opinion expressed by you would have proved to be correct in practice; it is, therefore, with some regret that I feel called upon to point out the fact that the motorbus is not so harmless in the matter as you would have your readers believe.—Yours faithfully,
" Lou..''
[The recent weather has been exceptional. Our correspondent has, probably, been influenced by the fact that so few horsed buses were able to travel, and we adhere to our previous opinions on this matter.—En.}