Delivering a British-made Lorry in New Zealand.
3rd February 1925
Page 7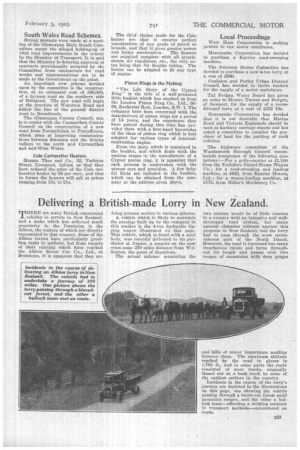 Page 7, 3rd February 1925 —
Delivering a British-made Lorry in New Zealand.
Close
• • •
THERE are many British commercial vehicles in service in New Zealand, and a make which has achieved much popularity in the Dominion is the Albion, the makers of which are directly represented in that country. Some of the Albion lorries have particularly gruelling tasks to perform, but from reports of their running which have reached the Albion Motor Car Co" Ltd., at Scotstoun, it is apparent that they are doing yeoman service in various spheres.
A vehicle which is likely to maintain the prestige built up by the company in this market is the 4-ton hydraulic tipping wagon illustrated on this page. This vehicle, which is fitted with a steel body, was recently delivered to its purchaser at Napier, a seaport on the east coast some 270 miles distance from Wallington, the point of departure.
The actual mileage separating, the two centres would be of little concern in a country with an intensive and welldeveloped road -system, but many natural obstacles militate against this progress in New Zealand, and the lorry had to pass through the most mountainous part of the North Island. Moreover, the road it traversed has many treacherous twists and turns throughout it length and passes over two ranges of mountains with deep gorges
and HIS of minor importance nestling between them. The maximum altitude reached by the road in places is 1,760 ft., and in some parts the route consisted of mere tracks, originally blazed out as a bush track by some of the earliest settlers in the country.
Incidents in the course of the lorry's journey are depicted in the illustrations on this page, one showing the vehicle passing through a burnt-out forest amid mountain ranges, and the other a bullock team—affording a striking contrast in transport methods—encountered en route.