OPINIONS FROM OTHERS.
3rd February 1925
Page 25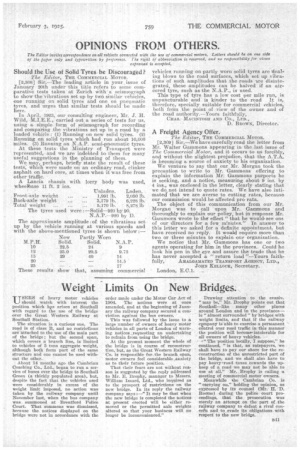 Page 25, 3rd February 1925 —
OPINIONS FROM OTHERS.
Close
The Editor inirites corresppndence on all subjects connected with the use of commercial motors. Letters should be on one side of the pafier only and typewritten h y preference. The right of abbreviation is reserved, and no responsibility for views expressed is accepted.
Should the Use of Solid Tyres be Discouraged?
The Editor, THE COMMERCIAL Moro.
[2,308] Sir,--The leading article in your .issue of January 20th under this title refers to some comparative tests taken at Zurich witli'a seismograph to show the vibrations set up by twetsimilar vehicles, one running on solid tyres and one on pnetuna,tie tyres, and urges that similar tests should be• made In April, 1923, our consulting engineer, Mr. J. H. Wild, M.I.E.E., carried out a series of tests for us, using a. simple form of seismograph for recording and comparing the vibrations set up in a road by a 'loaded vehicle : (1) Running on new solid tyres. (2) Running on solid tyres which had run about 10,000 miles. (3) Running .on N.A.P. semi-pneumatic tyres. At these tests, the Ministry of Transport were represented, and we are indebted to them for many useful suggestions in the planning of them.
We imay, perhaps, briefly state the result of these tests; Which were made on an ordinary road, clinker asphalt on hard core, at times when it was free from other traffic.
A Lancia chassis with lorry body was used, wheelbase lift. 2 ins.
Unladen. Laden.
Front-axle weight .. ,., 1,991 lb. 2,050 lb. Back-axle weight 3,179 lb. 6,228 lb. Total weight ... ... 5,170 lb. 8.,278 lb The tyres used were :—Solid-920 by 90.
N.A.P.-920 by I). .
The approximate amplitude of the vibrations set up by the vehicle running at various speeds and with the above-mentioned tyres is shown below:—
New Partly Worn
MPH. Solid. Solid. N.A.P.
10 22.5 24 12 25.0 29.5 9.75 15 29 40 14
20 14.5
25 17
These results show that, assuming commercial
vehicles running on partly worn solid tyres are 'deal, jug blows to the road surfaces, which set up vibrations of such amplitudes that the roads -i,re disintegrated, these amplitudes can be halved if an aircored tyre, such as the N.A.P., is used.
This type of tyre has a low cost per mile run, is unpuncturable and is kinder to the road It is, therefore, specially suitable for commercial vehicles, both from the point of view of the owner and of the road authority.—Yours faithfully, CHAS. MACINTOSH AND CO., LTD.,
D. Bnowx, Director.
A Freight Agency Offer.
Tire Editor, THE COMMERCIAL MOTOR.
[2,309] Sir,--We have carefully read the letter from Mr. Walter Gammons 'appearing in the last issue of The Goirtmercial Motor, and it occurs to us forcibly, and without the slightest prejudice, that the A.T.A. is becoming a source of anxiety to his organization. We venture to say that our Mr. Morgan took the precaution to write to Mr. Gammons offering to explain the information Mr: Gammons purports he is seeking, and a notice, measuring about 9 ins. by 4 ins., was enclosed in the letter, clearly stating that we do not intend to quote rates. We have also intimated that we are averse to cutting rates, because our commission would be affected pro rata.
The object of this communication from our Mr. Morgan was to call upon Mr. Gammons and thoroughly to explain our policy, but in response Mr. Gammons wrote to the effect "that he would. see ODE of our directors for a few minutes." In answer to this letter we asked for a definite appointment, but have received no reply. It would require more than two or three minutes to explain our organization.
We notice that Mr. Gammons has one or two agents operating for him in the provinces. Could he look his pen in the eye and assure the trade that he has never accepted a "return load "—Yours faith fully, AMALHA3IATED TRANSPORT AGENCY, LTD., JOHN KELLOOK, Secretary. London, E.C.1.