A WELL-EQUIPPED DEMONSTRATION VAN.
3rd February 1925
Page 22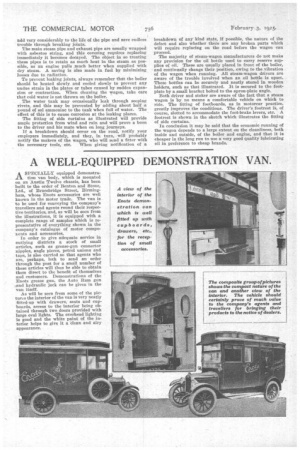 Page 22, 3rd February 1925 —
A WELL-EQUIPPED DEMONSTRATION VAN.
Close
A. SPECIALLY equipped demonstration van body, which is mounted on an Austin Twelve chassis, has been built to the order of Benton and Stone, Ltd., of Bracebridge Street, Birmingham, whose Emits accessories are well known in the motor trade. The van is to be used for conveying the company's travellers and agents round their respective territories, and, as will be seen from the illustrations, it is equipped with a complete range of samples which is representative of everything shown in the company's catalogue of motor components and accessories.
In order to give adequate service in outlying districts a stock of small articles, such as grease-gun connector nipples, angle pieces, petrol unions and taps, is also carried so that agents who are, perhaps, loth to send an order through the post for a small number of these articles will thus be able to obtain them direct to the benefit of themselves and customers. Demonstrations of the Enots grease gun, the Auto Ram gun and hydraulic jack can be given in the ran itself.
As will be seen from some of the pictures the interior of the van is very neatly fitted-up with drawers, seats and cupboards, access to the interior being obtained through two doors provided with large oval lights. The overhead lighting is good and the white paint of the interior helps to give it a "clean and airy appearance.