Difficulties in Computing Ballast Haulage Rates
3rd December 1943
Page 32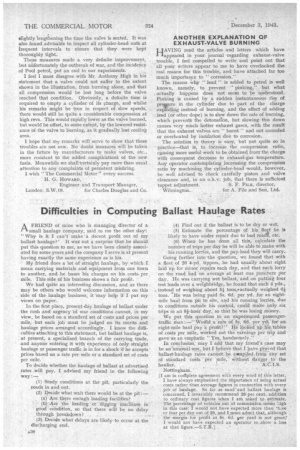 Page 32, 3rd December 1943 —
Difficulties in Computing Ballast Haulage Rates
Close
AFRIEND of mine who is managing director of a small haulage company, said to me the other day: "Why is it I can't make a. decent profit out of my ballast haulage?' It was not a surprise that he should put this question to me, as we have been closely associated for some years and the company I serve is at present having exactly the same experience as is his.
My friend does a lot of straight haulage, by which I mean carrying materials and eciuipment from one town to another, and he bases his charges on his costsper mile. This side of his business shows a fair profit.
We had quite an interesting discussion, and as there may be others who would welcome information on this side of the haulage business, it may help if I put my views on paper..
Ire the first place, present-day haulage of ballast under the rush and urgency of war conditions cannot, in •my view, be based on a standard Set of costs and prices per mile; but each job must be judged on its merits and haulage prices arranged accordingly. I know the difficulties•attaehing to this statement, but ballast haulage is, at present, a specialized branch of the carrying trade, and anyone entering it with experience Of only straight haulage or passenger traffic is in for a shock if he accepts prices based on arate per mile or a standard set of costs per mile.
To decide whether the haulage of ballast at advertised rates .will pay, I advised my friend in the following way :
(1) Study conditions at the pit, particularly the roads in and out.
(2) Decide what wait there would be at the pit : — (a) Are there enough loading facilities?
(b) Are the loading 'or digging machine's in good condition, so that there will lac no delay
through. breaklown ? .
(3) Decide what delays are likely to occur at the disqlarging end.
A30 (4) Find out if the ballast is to be dry or wet. (5) Estimate the percentage of his fieit he is likely to have under repair due to bad road!, etc. (6) When he has done all this, calculate the number of trips per day he will be able to make with his running lorries, and the pay-load they will carry..
Going further into -the question, we found that with a fleet of 20 -4 yd. tippers, he had usually about eight laid up for minor repairs each day, and that each lorry on the road had on average at least one puncture per day. He was carrying wet ballast, and on putting four test loads over a weighbridge, he found that each 4 yds:, instead of weighing about 51 tons,6actually weighed 64 tons. He was being paid 5s. 6d. per yd. for an eightmile haul from pit to site, and his running lorries, due to conditions outside his contrOl, could make only six trips in an Si-hour day; so that he was losing Money.
We put this question to an experienced pasSengettraffic man :=`Worlid a:rate_ of SS. 6d per yd. for an eight mile haul pay 4 profit He looked uphis tables of costs per mile, worked out the earnings per trip and gave us an emphatic " Yes, handsomely.'
In conclusion; may I add..that my friend's case may be animusual one but I believe that I have proved that , ballast haulage rates cannot be compiled from any set of standard costs per mile, Without danger to the haulier. _ A:C.I S. Nottingham. ' °
[I am in coalplete agreement with every word of this letter. I have always emphasized the iMportance of Using actual costs rather than average figures in connection with every job of haulage. So far as sand'and ballast haulage is concerned, I invariably recommend 20 per cent, addition to ordinary cost figures when I am asked to estimate. The percentage of vehicle's out of cormnisOon.se6ms high in this case: I would not have expected more than 'Nee or four per day out of 20, and Imtist admit that, although the margin for profit at 5s. 6d. per yard is not great! I would not have expected an operator to ,show a loss at that figure.—S.T.R.]