SHOULD SHEEP TRAVEL BY . SEA OR ROAD?
3rd December 1943
Page 17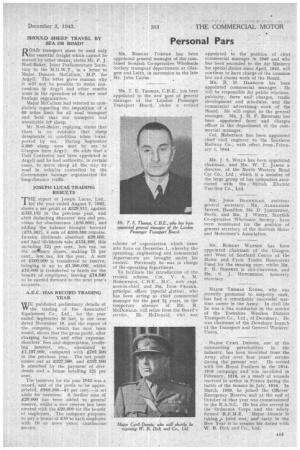 Page 17, 3rd December 1943 —
SHOULD SHEEP TRAVEL BY . SEA OR ROAD?
Close
OAD transport must be used only l'for essential freight which cannot he moved by other Means, states Mr. P. J. Noel-Baker, joint Parliamentary Secretary to the M.O.W.T., in a letter to Major Duncan McCallum, M.P. for Argyll. The letter giVes reasons why it will not be possible to make concessions in Argyll and other reniote areas in the operation of the new road haulage organization.
Major McCallum had referred to complaints regarding the imposition of a 60 miles limit for all road transport and 'held that sea transport was unsuitable fof sheep.
Mr. Noel-Baker, replying, states that there is no evidence that sheep deteriorate in. condition When transported by sea. During September 5,000 sheep were sent by sea to Glasgow from Argyll. He adds that a Unit Controller had been appointed in Argyll and he had authority, in certain cases, to move sheep all the way by road in vehicles controlled by the Government haulage organization for
long-distance' traffic. •
JOSEPH LUCAS TRADING RESULTS
THE report of Joseph Lucas, Ltd., for the year ended August 7, 1943, shows a net .profit of £329,811, against £315,132 in the previous year, 'and aft& deducting directors' fees and provision for obsolescence (£50,000), and adding the balance bought forward (£75,362)., a sum of £353,590 remains. Interim dividends absorbed £29,650, and final dividends take £134,400, this including 12i per cent., less tax, on the ordRnary shares, ,making 15 per cent., less tax, for the year. A sum of £1001000 is transferred to reserve, bringing it up to £1,200,000, whilst £15,000 is transferred to funds for the benefit of employees, leaving £74,540 to be carried forward to the next year's accounts. _
A.E.C. HAS RECORD TRADING
WE published preliminary details of the trading of the Associated ' Equipment Co., Ltd., for the year ended September 30 last, in our issue dated November 19, and the report of the company, which has now been issued, shows that the gross profit, after charging factory and other expenses, directors' fees and depreciation, crediting interest, etc., amounted to £1,197,000, compared with £701,500 'in the previous year. The net profit comes out at •£227,500, and £187,500 is absorbed by the payment of dividends and a bonus totalling 124 per cent,
The turnover for the year 1943 was a record, and of the profit to be appropriated, £969,500-81 per cent.—is set aside for taxation. A further sum of £20,000 has been added, to general reserve, whilst a new reserve has been created with the £20,000 far the benefit of employees. The company proposes to pay .a bonus of £10 to each employee with 10 or more years'. continuous service.