Personal Pars
3rd December 1943
Page 17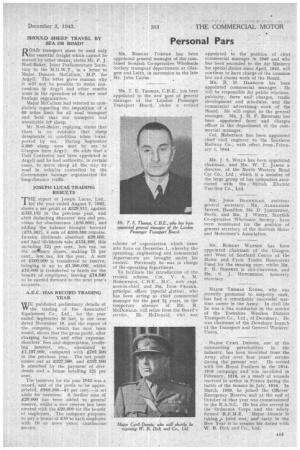 Page 18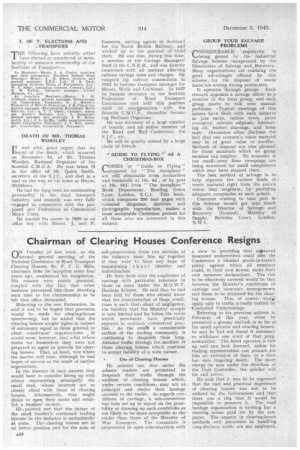 Page 17, 3rd December 1943 —
Personal Pars
Close
Ma, ROBERT TURNER has been appointed general manager of the combined Scottish Co-operative Wholesale Society transport departments at Glasgow and Leith, in succession to the late Mr. John Cairns scheme of organization which came into force on December 1, whereby the operating, engineering and commercial 'departments are brought under his control. Previously he was in charge of the operating department.
To facilitate the introduction of the revised scheme, Coe. V. A. M. ROBERTSON, C .B.E., MC., noiV engineer-in-chief, and MR, IvOR 'FRASER , principal officer (special 4.1uties), who has been acting as chief, commercial manager for the past 24 years, in tbe temporary absence of MR. R. 1■IcDoerm.n, well retire from the Board's service.. Mr. McDonald, whO was
appointed to the position of chief commercial manager in 1940 and who has been seconded to the Air Ministry for special /duties since April, 1941, will continue to have charge of the common law and claims work of the Board.
MR. B, H. HARBOUR has been appointed commercial manager. He will be responsible for public. relations, publicity, fares and charges, traffic development and Schedules, and the commercial advertising work of the Board. He will report to the general manager. MR. J. H. F. BENFORD has been appointed farec and charges officer in the department of the commercial manager.
Col. Robertson has been appointed chief civil engineer to the Southern Railway Co., with effect from .Febru ary 1, 1944. ,
Ma. J. S. WILLS has been appointed chairman, and MR. W. T. JAMES a director, of the North Western Road Car Co., Ltd , which is a member of the large'group of bus companies associated with the . British Electric Traction Co., Ltd.
MR: JOHN BRANNIGAN, assistani general secretary, MR ALEXANDER IRVINE, Hamilton, MR D. JortersroNE, Perth, and MR, J WHITE, &Offish Co-,operative Wholesale Society, have been nominated for the position of general secretary of the Scottish Horse and Motormen's Association, . ROBERT WATSON has been appointed chairman of the Glasgow and West of Scotland Centre of the Motor and Cycle Trades Benevolent Fund for the ensuing year, whilst MR F. B. • POPPETT is vice-chairman; and MR, S. J. HUTCHESON, honorary secretary.
MAJOR THOMAS EVERS, who was recently promoted to majority rank, has had a remarkably successful wartime career in the Army. In civil life he was a bus conductor in the service of the Yorkshire Woollen 'District Transport Co., Ltd., of Dewsbury. He was chairman of the Dewsbury branch of the Transport and General Workers' Union.
MAJOR CyRIL DENNIS, one of the outstanding personalities in the industry, has been invalided from the Army after over four years' service during thepresent war. He served with the Royal Fusiliers in the 19141918 campaign and was invalided in February, 1918, as a result of wounds received in action in France during the battle of the Somme in July, 1916. In March, 1999, he joined the Officers' Emergency Reserve and at -the end of 'October' of that year Was commissioned to the R.A.S.C. He has also served in the Ordnance Corps and the newly formed' R.E.1VI.E. Major Dennis is taking ,a brief rest, and early in the New Year is to resume his duties with W. B. Dick and Co., Ltd.
DEATH OF MR. THOMAS WORSLEY
I T was with great regret that we
learnt of the death, which occurred on November , 24, of Mr. Thomas Worsley, National Organizer of the Scottish .C.M.U.A. He was taken ill in the office of Mr. Quick Smith, secretary of the S.J.C., and died in, a taxi on the way to his home'at Hayes, Middlesex:
He had for long been an outatanding . Personality in the road transport industry, and recently was very fully engaged in connection with the proposed new Federation of Commercial .1.1,1otor Users.
He started: hi career in 1899 as an office boy with Messrs. J. and P. Cameron, carting agents in Scotland for ,the North British Railway, and Worked' up to the position of 'chief. clerk. He was also, during this tithe, a member of the Cartage Managers' Staff of the L.N.E.R., and was directly concerned • with all matters affecting railway cartage rates and charges. He resigned hi"s railway connections in 1932 to become transport manager for Messrs. Wylie and Lochhead. In 1937, he became secretary to the .Scottish Federation of Road Transport Contractors and held this position until its amalgamation with the Scottish C.M.U.A.,, thereafter becoming. National Organizer.
He was secretary of a large number of boards, and an active member of the Road and Rail Conference, the S.J.C., etc.
He will be greatly missed by a large circle of friends. • "GUIDE TO FLYING" AS A CHRISTMAS-BOX
COPIES of "Guide to Flying" prepared by "The Aeroplane" are still obtainable from booksellers and bookstalls at 10s. 6d., or by post at 10s. 10d. from " The Aeroplane " Book Department, Bowling Green Lane, London, E.C.I. This book, which comprises 200 text pages with coloured diagrams, sketches and photographic reproduction, makes a most acceptable Christmas present for all those who are interested in this subject.
GROUP YOUR SALVAGE PROBLEMS
CONSIDERABLEpopularity is being gained by the Industrial Salvage .Scheme inaugurated by the Directorate of Salvage and Recovery. Many organizations are realizing the great advantages offered by this scheme , for the disposal of waste materials arising during production.
It operates through groups. Each concern appoints .a salvage officer as ,a member of the local group, and each
group .meits to talk caier mutual problems. -,Typical meetings of this nature have dealt with such subjects as jute sacks, rubber tyres, paint overspray, calcium sulphate, lubricating oil, leather shavings, and lamp caps. Discussionoften discloses the fact that one concern's waste material may be of great . value to anot6er. Methods of disposal are also planned for those materials which no group member can 'employ. No economy is, too small—even floor sweepings are being examined for small components
which may have strayed. there. '
The hest method of salvage is to keep separate the various kinds of t waste material right from the points where they originate, by providing adequate receptacles at such points. Concerns wishing to take part in this Scheme should get into touch with the Director of Salvage and Recovery (General), Ministry of Supply, Berkeley Court, London, N.W.1.
Tags
Organisations
:
Scottish Federation of Road Transport Contractors
,
Directorate of Salvage and Recovery
,
Air Ministry
,
&Offish Co-,operative Wholesale Society
,
Ordnance Corps
,
Road
,
Army
,
Scotland Centre of the Motor
,
Scottish Co-operative Wholesale Society
,
General Workers' Union
,
Berkeley Court
,
Federation of Commercial
,
Ministry of Supply
,
Scottish Horse and Motormen's Association
,
Motormen's Association
,
Motor and Cycle Trades Benevolent Fund
People
:
ROBERT WATSON
,
H. F. BENFORD
,
J. S. WILLS
,
McDonald
,
John Cairns
,
S. J. HUTCHESON
,
THOMAS WORSLEY
,
W. T. JAMES
,
ALEXANDER IRVINE
,
ROBERT TURNER
,
THOMAS EVERS
,
Quick Smith
,
JOHN BRANNIGAN
,
M. ROBERTSON