News of the Week
3rd December 1943
Page 16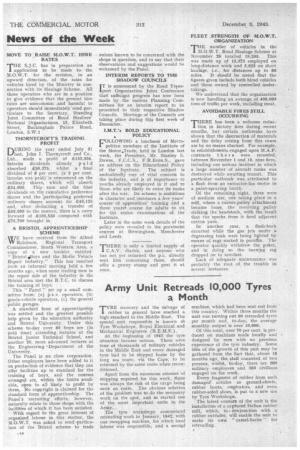 Page 16, 3rd December 1943 —
News of the Week
Close
THE S.J.C.-has in preparation an application to be made tothe /11.0.W.T. for the revision, in an upward direction, of the rates for vehicles hired by the Ministry in connection with its Haulage Scheme. All those operators who are in a position to give evidence that the present hire rates are uneconomic -and harmful to operators should immediately'send particulars to the Secretary, Standing Joint Committee of Road Hauliers' National Organizations, 15, Elizabeth Street, Buckingham Palace Road, London, S.W. 1
THORNYCROFT'S TRADING PROFIT
nURING the year ended July 31 Lflast, John I. Thornycroft and Co., Ltd., made a profit of 2153,334. Interim dividends already paid absorbed 280,375, whilst a final dividend of S per cent. (a 5 per cent. interim was paid)' is announced on the ordinary shares, which will absorb 224,000. This sum and the final dividends on the cumulative preference shares and the 'participating preferred ordinary shares account for 243,125 and, after deducting a transfer of 250,000 to the reserve, there is a carry forward of 2105,533 compared with 275,700 brought in.
A BRISTOL APPRENTICESHIP SCHEME
WE have received from Sir Alfred VV Robinson, Regional Transport Commissioner, South Western Area, a copy of a new booklet entitled: " Bristol gi3oys and the Motbr Vehicle Repair Industry." This has resulted froth an informal meeting held a few months ago, when some leading men in the repair side of the industry in the Bristol area met the R.T.C. to discuss the training of boys.
This " Panel " set up a small committee from: (a) p.s.v, operators, (b) goods-vehicle operators, (c) the general public garages.
A standard form of apprenticeship
was settled and the greatest possible help given by the education authority and Bristol University. Under this scheme to-day over 80 boys are (in paid time) attending lectures at the Bristol Junior Technical School, and another 20, more advanced lectures at the Engineering -Department of the University.
The Panel is no close corporation.
Other employers have been added to it on production of evidence that they can offer facilities up to standard for the training of boys, and the courses arranged are, within the limits available, oPen to all likely to profit by them. No copFright is claimed for the standard form of apprenticeship. The Panel's recruiting efforts, however, naturally relate to those shops with the facilities of which it has been satisfied.
With regard to the great interest of organized labour in this matter, the M.O.W.T. was asked to send particulars of the Bristol scheme to trade unions known to be concerned with theshops in question, and to say that their observations and suggestions would be welcomed by the Panel.
INTERIM REPORTS TO THE SHADOW COUNCILS
IT is announced by the Road Transport Organization Joint Conference that sufficient progress has now been made by the various Planning Committees for an interim report to be presented to their respective Shadow Councils. Meetings of the Councils are taking place during this first week of December.
I.M.T.'s BOLD EDUCATIONAL • POLICY
FOLLOWING a luncheon of Metropoliter' members of the Institute of the MotoreTrade, held in London last
week, the President, Mr. Stanley S. Dawes,_ F.c.c.s., F.R.Econ.S., gave an address on the Educational Policy
of the Institute. The subject is undoubtedly one of vital concern to
the industry, and is of importance to youths already employed in it and to those who are likely to enter its ranks after the war. Its scheme is ambitious in character and embraces a five years' course of apprentices' training and a three years' course for adults to sit for the senior examinations of the Institute.
Later in the same week -details of the policy were revealed to the provincial centres at Birmingham, Manchester and Leeds,
THERE is only a limited supply of C.A.V. diaries, and anyone who has not yet returned the p.c. already sent him concerning these, should affix a penny stamp and post it at once.
FLEET STRENGTH OF M.O.W.T. ORGANIZATION
THE number of vehicles in the M.O.W.T. Road Haulage Scheme at November 25 totalled 19,295. This was made up of 13,372 emploYed on long-distance work and 5,923 on short haulage, i.e., for distances up to 60
miles. It should be noted that the figures given include both hired vehicles and' those owned by controlled undertakings.
We understand that the organization is now handling an average of 400,000 tons of traffic per week, including meat.
, AVOIDABLE FIRES STILL OCCURRING
T'THERE has been. a welcome reduc/ tion in factory fires during recent months, but' certain outbreaks have shown that the destruction of materials and the delay arising from this cause are by no means checked. For example, in establishments engaged upon M.A.P. contracts t her e were recorded,between November 1 and 10, nine fires, including one serious incident in which a 'large number of aircraft tanks was destroyed while awaiting transit. This particular outbreak was attributed to a flash from an extractor-fan motor in a paint-spraying booth.
Of the remaining eight, three we're of medium size, one taking place in a mill, where a carrier-pulley attachment became loose, the revolving pulley striking the headstock, with the result that the sparks from it fired adjacent cotton yarn.
In another case, a flash-back occurred while the gas jets under a degreasing tank were being lighted by means of rags soaked in paraffin. The operator quickly withdrew the poker, and in doing so theburning rag dropped on to sawdust.
Lack of adequate maintenance was probably the root of the trouble in several instances.