Passing Comments
3rd December 1943
Page 14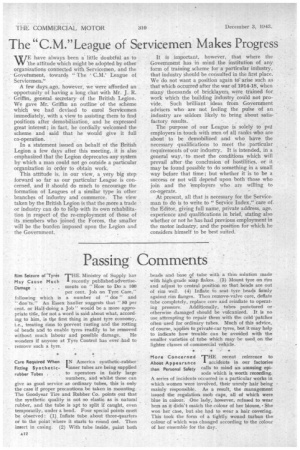 Page 15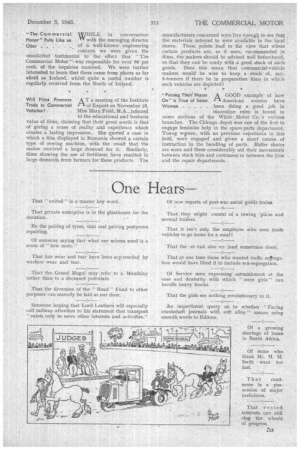 Page 14, 3rd December 1943 —
Passing Comments
Close
Rim Seizure of Tyres THE Ministry of Supply has May Cause Much A recently published advertise
Damage meats on "How to Do a 100
per cent. Job on Tyre Care," following which is a number of " dos " and " don'ts." An Essex haulier suggests that "50 per cent. or Half-doing a Job" would be a. more appropriate title, for not a word is said about what, according, to him, is tile first thing in giant tyre economy, i.e., treating rims to prevent rusting and the rotting of beads and to enable tyres readily to be removed
without much labour and possible damage. He wonders if anyone at Tyre Control has ever had to remove such a tyre.
Care Required When IN America synthetic-rubber Fitting Synthetic'inner tubes are being supplied rubber Tubes . . . to operators in fairly large numbers, and whilst these can give as good service as ordinary tubes, this is only the case if proper precautions be taken in mounting. The Goodyear Tire and Rubber Co. points out that the synthetic quality is not so elastic as is natural rubber, and the tube is apt to split if caught,. even temporarily, under a bead. Four special points must be observed : (I), Inflate tube about three-quarters or to the point where it starts to round out. Then insert in casing. (2) With tube inside, paint both . beads and base of tube with a thin, solution made with high-grade soap flakes. (3) Mount tyre on rim and adjust to central position so that beads are out of rim well. (4) Inflate to seat tyre beads firmly against rim flanges. Then remove.valve core, deflate tube completely, replace core and reinflate to operating pressure. Additionally, tubes punctured or otherwise damaged should be vulcanized. It is no use attempting to repair them with the cold patches often used for ordinary tubes. Much of this advice, of course, applies to private-car tyres, but it may help to indicate how trouble can be avoided with the smaller varieties of tube which may be used on the lighter classes of-commercial vehicle.
More Concerned HE recent reference to About Appearance I accidents in our factories than Personal safety calls to mind an amusing epi sode which is worth recording. A series of incidents occurred in a particular works in which women were involved, their unruly hair being mainly responsible. As a result, the management issued the regulation mob caps, all of which were blue in colour: One lady, however, refused to wear hers as it didn't match the colour of her blouse., She won•her case, but she had to wear a hair covering. This took the form of a tightly wound turban the colour of which was changed according to the colour of her ensemble for the day.
"The Commercial WHILE in conversation Motor" Pulls Like an with the managing director Oiler of a well-known engineering concern we were given the utsolicited testimonial to the effect that "The Commercial Motor "was responsible for over 90 per cent, of the inquiries received. We were further interested to learn that these came from places as far afield as Iceland, whilst quite a useful number is regularly received from the North. of Ireland.
Will Films Promote -A T a meeting of the Institute Trade in Commercial .r-% of Export on November 18,
Vehicles? Miss Mary Field, M.A., referred to the educational a-nd business value of films, claiming that their great worth is that of giving a sense of reality and experience which creates a lasting impression. She quoted a case in which a film displayed in Rumania showed a certain type of sewing machine, with the result that the maker received a large demand for it. Similarly, films showing the use of fertilizers have resulted in .large demands from farmers for these products. The manufacturers concerned were live enough to see that . the materials referred to were available in the local stores. These points lead to the view that where certain products are, as it were, recommended in films, the makers should be advised well beforehand, so that they can be ready With a good stock of suchgoods. Does this mean that commercial-vehicle makers would be wise to keep a stock of, say, 5-tonners if there be in preparation films in which such vehicles are depicted?
"Putting Their? Skates A GOOD example of how On" is True of Some ..rx American v.orrien have
Women been doing a good job in masculine roles is found in some sections of the White Motor Co.'s various branches. The Chicago depot was one of the first to engage feminine help in the spare-parts department. Young wqmen, with no previous experience in this field, were engaged• and given a short course of instruction in the handling of parts. Roller skates are worn and these considerably aid their movements between stock bins and customers or between the bins and the repair departments.