Motors at the Royal Lancashire Show.
3rd August 1926
Page 20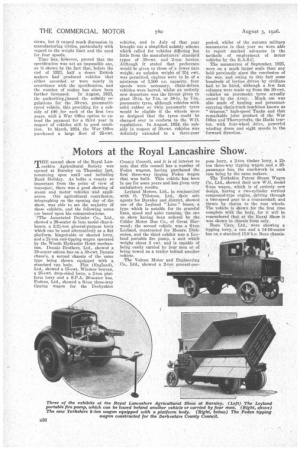 Page 20, 3rd August 1926 —
Motors at the Royal Lancashire Show.
Close
MBE annual show of the Royal Lan cashire Agricultural Society was opened at Burnley on Thursday last, remaining open until and including Bank Holiday. As befits a county so important from the point of view of transport, there was a good showing of steam and motor vehicles and appliances. Our agricultural contributor, telegraphing on the opening day of the show, was able to see the majority of, these exhibits, and the following notes are based upon his communications. ',The Associated Daimler Co., Ltd., showed a 26-seater de luxe model char-itbanes, a 2-2i-ton general-purpose lorry which can be used alternatively as a flat platform, hinged-side or sheeted lorry, and a 2i-ton end-tipping wagon operated by the Woods Hydraulic Hoist mechanism. Dennis Brothers, Ltd., showed a 19-seater saloon bus on a 30-cwt. Dennis chass's, a second chassis of the same type being shown equipped with a standard van body. Fiat (England), Ltd., showed a 15-cwt. Windsor boxvan, a 25-cwt drop-sided lorry, a 2-ton platform lorry and a S.P.A. 20-seater bus. Fodens, Ltd., showed a 6-ton three-way tipping wagon for the Derbyshire County Council, and it is of interest to note that this council has a number of Foden wagons, having purchased the first three-way tipping Foden wagon that was built. This vehicle has been in use for some years and has given very satisfactory results.
Leyland Motors, Ltd., in conjunction: with 0. Tillotson, Ltd., their sole agents for Burnley and district, showed one of the Leyland "Lion" buses, a type which is notable for its graceful lines, speed and quiet running, the one on show having been ordered by the Calder Motor Bus Co" of Great Harwood; the second vehicle was a 6-ton Leyland, constructed for Messrs. Dickenson, and the third exhibit was a Leyland portable fire pump, a unit which weighs about 2 cwt. and is capable of being easily carried by four men or of being towed as a trailer behind another vehicle.
The Vulcan Motor and Engineering Co., Ltd., showed a 2-ton general-pur
pose lorry, a 2-ton timber lorry, a 2iton three-way tipping wagon and a 20passenger bus, the coachwork in each case being by the same makers.
The Yorkshire Patent Steam Wagon Co., Ltd., showed their new W.G. model 6-ton wagon, which is of _entirely new design, having a two-cylinder vertical compound-type engine, _driving through a two-speed gear to a countershaft and thence by chains to the •rear wheels. The vehicle is shown for the first time complete with the body, for it will be remembered that at the Royal Show it was shown in chassis form only.
Bean Cars, Ltd., were showing a tipping lorry, a van and a 14-16-seater bus on a standard 15.9 h-p. Bean chassis.