WHEN TRAFFIC OBSTRUCTION ARISES.
3rd August 1926
Page 14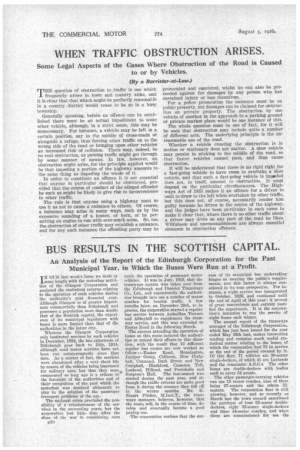 Page 14, 3rd August 1926 —
WHEN TRAFFIC OBSTRUCTION ARISES.
Close
Some Legal Aspects of the Cases Where Obstruction of the Road is Caused to or by Vehicles.
(By a Barrister-at-Law.) TBE question of obstruction to traffic is one which 1. frequently arises in town and country alike, and it is clear that that which might be perfectly reasonable in a country district would cease to be so in a busy township.
Generally speaking, before an offence can be established there must be an actual impediment to some other vehicle, although, in a strict sense, this may be unnecessary. For instance, a .vehicle may be left in a certain position, say in the middle of cross-roads or alongside a refuge, thus forcing other traffic on to the wrong side of the road or bringing upon other vehicles an increased risk of collision. There may, indeed, be no real obstruction, as passing traffic might get through by some manner of means. In law, however, an obstruction might arise, for the principle applied would be that impeding a portion of the highway amounts to the same thing as impeding the whole of it.
In order to constitute an offence it is not essential that anyone in particular should be obstructed, provided that the course of conduct of the alleged offender be such as might be likely to give rise to inconvenience to other traffic.
The rule is that anyone using a highway must so use it as not to cause a nuisance to others. Of course, a nuisance may arise in many ways, such as by the excessive sounding of a hooter, or horn, or by permitting an engine to run with over-much noise. So, too, the obstruction of other traffic may establish a nuisance, and for any such nuisance the offending party may be prosecuted and convicted, whilst he can also be proceeded against for damages by any person who has sustained injury or loss therefrom.
For a police prosecution the nuisance must be on public property, but damages can be claimed for obstruction on private property. The obstruction by one vehicle of another in the approach to a parking ground or private market place would be one instance of this.
The whole question must be one of fact, for it will be seen that obstruction may include quite a number of different acts. The underlying principle is the unreasonable UGC of the road.
Whether a vehicle creating the obstruction is in motion or stationary does not matter. A slow vehicle may persist in sticking to the middle of the road, so that faster vehicles cannot pass, and thus cause obstruction.
It will be understood that there is no rigid right for a fast-going vehicle to ,have room to overtake a Slow vehicle, and that such a fast-going vehicle is impeded does not, in itself, amount to obstruction. It must depend on the particular circuhistances. The Highways Act of 1835 makes it an offence for a driver to omit to draw to the left when overtaken by other traffic, but this does not, of course, necessarily render him guilty because he drives in the centre of the highway, and the judges have been pc rticular in such cases to make it clear that, where there is no other traffic about a driver may drive on any part of the road he likes. ' Wilfulness and unreasonableness are always essential elements in obstruction offences.