'Steamroller' Howell
3rd April 1982
Page 5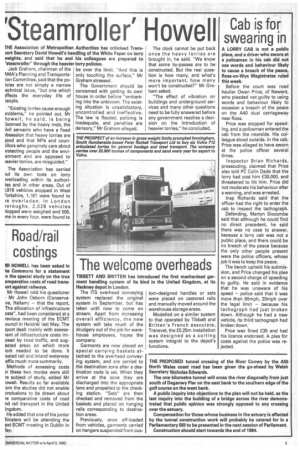 Page 5, 3rd April 1982 —
'Steamroller' Howell
Close
l'HE Association of Metropolitan )ort Secretary David Howell's han weights, and said that he and 'steamroller" through the heavier Jack Graham, chairman of the kMA's Planning and Transportaion Committee, said that the poicies are not simply a narrow echnical issue, "but one which iffects the everyday life of oeople.
"Existing lorries cause enough )roblems," he pointed out. Mr thwell, he said, is being :conned by the heavy mob, the :MI servants who have a fixed obsession that heavy lorries are pod and that MPs and coun:Mors who genuinely care about orotecting people and the envionment and are opposed to ieavier lorries, are misguided."
The Association has carried out its own tests on lorry overloading within its authoriles and in other areas. Out of 1,916 vehicles stopped in West 'orkshire, 1,161 were found to le overladen. In London boroughs, 2,0 2 8 vehicles topped were weighed and 506, one in every four, were found to
Authorities has criticised Transdling of the White Paper on lorry his colleagues are prepared to lorry policies.
be over the limit. "And this is only touching the surface," Mr Graham stressed.
The Government should be concerned with getting its own house in order before "embarking into the unknown. The existing situation is unsatisfactory, uncontrolled and ineffective. The law is flouted, policing is inadequate, and penalties are derisory," Mr Graham alleged. The clock cannot be put back once the heavy lorries are brought in, he said. "We know that some by-passes are to be constructed. But the real question is how many, and what's more important, how many won't be constructed?" Mr Graham asked.
"The effect of vibration on buildings and underground services and many other questions need to be fully answered before any government reaches a decision on the introduction of heavier lorries," he concluded.