One way to cope with Japanese imports
3rd April 1982
Page 34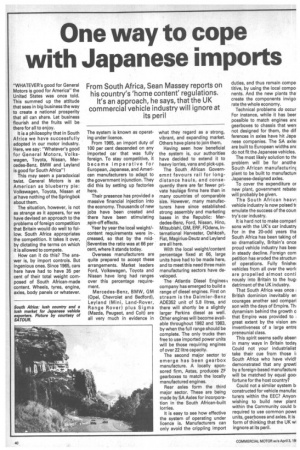 Page 34, 3rd April 1982 —
One way to cope with Japanese imports
Close
From South Africa, Sean Massey reports on his country's 'home content' regulations. It's an approach, he says, that the UK commercial vehicle industry will ignore at its peril
"WHATEVER's good for General Motors is good for America" the United States was once told. This summed up the attitude that sees in big business the way to create a national prosperity that all can share. Let business flourish and the fruits will be there for all to enjoy.
It is a philosophy that in South Africa we have successfully adopted in our motor industry. Here, we say: "Whatever's good for General Motors, Volkswagen, Toyota, Nissan, Mercedes-Benz, BMW and Leyland is good for South Africa"!
This may seem a paradoxical twist. General Motors is as American as blueberry pie: Volkswagen, Toyota, Nissan at al have nothing of the Springbok about them.
The situation, however, is not as strange as it appears, for we have devised an approach to the problems of foreign competition that Britain would do well to follow. South Africa appropriates the competition. It takes it over, by dictating the terms on which it is allowed to compete.
How can it do this? The answer is, by import controls. But ingenious ones. Since 1965, cars here have had to have 35 per cent of their total weight composed of South African-made content. Wheels, tyres, engine, axles, body panels or whatever. The system is known as operating under licence.
From 1965, an import duty of 100 per cent descended on any imported car that was fully foreign. To stay competitive, it became imperative for European, Japanese, and American manufacturers to adapt to the government injunction. They did this by setting up factories here.
Their presence has provided a massive financial injection into the economy. Thousands of new jobs have been created and there have been stimulating .spin-off effects.
Year by year the local weight/content requirements were in-. creased, so that by the mid'Seventies the ratio was at 66 per cent, where it stands today.
Overseas manufacturers are quite prepared to accept these arrangements. Market leaders Ford, Volkswagen, Toyota and Nissan have long had ranges over this percentage requirement.
Mercedes-Benz, BMW, GM (Opel, Chevrolet and Bedford), Leyland (Mini, Land-Rover, Range Rover) plus Sigma (Mazda, Peugeot, and Colt) are all very much in evidence in what they regard as a strong, vibrant, and expanding market. Others have plans to join them.
Having seen how beneficial the system is, our authorities have decided to extend it to heavy lorries, vans and pick-ups.
The South African Governemnt favours rail for longdistance hauls, and consequently there are far fewer private haulage firms here than in many countries of comparable size. However, many manufacturers have since established strong assembly and marketing bases in the Republic: Merdedes-Benz, Ford, Nissan, Nino, Mitsubishi, GM, ERF, FOdens, International Harvester, Oshkosh, Fiat, Magirius-Deutz and Leyland are all here.
With the local weight/content percentage fixed at 66, large units have had to be made here, and to meet this need three main manufacturing sectors have developed.
The Atlantis Diesel Engines company has emerged to build a range of diesel engines. First on stream is the Daimler-Benz ADE352 unit of 5.8 litres, and there will shortly be a slightly larger Perkins diesel as well. Other engines will become available throughout 1982 and 1983, by when the full range should be complete. The only trucks then free to use imported power units will be those requiring engines of over 22 litre capacity.
The second major sector to emerge has been gearbox manufacture. A locally sponsored firm, Astas, produces ZF gearboxes to match the locally manufactured engines.
Rear axles form the third major sector. These are being made by SA Axles for incorporation in the South African-built lorries.
It is easy to see how effective the system of operating under licence is. Manufacturers can only avoid the crippling import duties, and thus remain compe titive, by using the local compo nents. And the new plants tha create the components invigo rate the whole economy.
Technical problems do occur For instance, while it has beer possible to match engines anc gearboxes to chassis that wen not designed for them, the dif ferences in axles have hit Japa nese companies. The SA axle: are built to European widths an( do not fit the Japanese vehicles.
The most likely solution to th( problem will be for anothe South African manufacturim plant to be built to manufacturt Japanese-designed axles.
To cover the expenditure or new plant, government rebate: will probably be given.
The South African heavl vehicle industry is now poised t( emulate the success of the coun try's car industry.
It is hard not to make compari sons with the UK's car industry For in the 20-odd years tha South Africa has been taking of so dramatically, Britain's once proud vehicle industry has beef in steady decline. Foreign corn petition has eroded the structun of operations. Fully finishel vehicles from all over the work are propelled almost conti nously into Britain to the hug detriment of the UK industry.
That South Africa was once British dominion inevitably en courages another sad compari son with the days of Empire. Thi dynamism behind the growth (3 that Empire was provided to great extent by the vision am inventiveness of a large entre preneunial class.
This spirit seems sadly abser in many ways in Britain today Could not your industrialist take their cue from those ii South Africa who have vivid!' demonstrated that any growtl by a foreign-based manufacture will be matched by equal goo fortune for the host country?
Could not a similar system b constructed for vehicle manufac turers within the EEC? Anyon wishing to build new plant within the Community could b required to use common powe units, gearboxes and axles. It is form of thinking that the UK wl ingnore at its peril.