Left turn ahead for road haulage
3rd April 1982
Page 3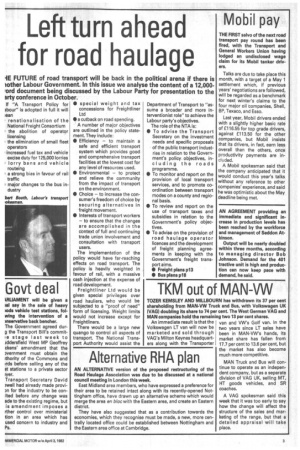 Page 3, 3rd April 1982 —
Left turn ahead for road haulage
Close
lE FUTURE of road transport will be back in the political arena if there is 'other Labour Government. In this issue we analyse the content of a 12,000Ford document being discussed by the Labour Party for presentation to the arty conference in October.
If "A Transport Policy for • special weight and tax 3bour" is adopted in full it will concessions for Freightliner lean renationalisation of the National Freight Consortium the abolition of operator licensing the elimination of small fleet operators increased fuel tax and vehicle excise duty for 125,000 lorries lorry bans and vehicle routeing a strong bias in favour of rail traffic major changes to the bus industry • a cutback on road spending. A number of major objectives are outlined in the policy statement. They include: • Efficiency — to maintain a safe and efficient transport system which provides good and comprehensive transport facilities at the lowest cost for any level of resources used. Environmental — to protect and relieve the community from the impact of transport on the environment.
Choice — to increase the consumer's freedom of choice by securing alternatives in freight movement.
Interests of transport workers — to ensure that the changes are accomplished in the context of full and continuing trade union involvement and consultation with transport users.
The implementation of the policy would have far-reaching effects on road transport. The policy is heavily weighted in favour of rail, with a massive cash injection at the expense of road development.
Freightliner Ltd would be given special privileges over road hauliers, who would be subjected to a "proof of need" form of licensing. Weight limits would not increase except for Freightliners.
There would be a large new quango to control all aspects of transport. The National Transport Authority would assist the
• • •
Department of Transport to "assume a broader and more interventionist role" to achieve the Labour party's objectives.
The role of the NTA is: • To advise the Transport Secretary on the investment needs and specific proposals of the public transport industries in relation to the Government's policy, objectives, including the roads programme.
• To monitor and report on the provision of local transport services, and to promote coordination between transport modes on a county and regional basis.
• To review and report on the use of transport taxes and subsidies in relation to the Government's policy objectives.
• To advise on the provision of road haulage operator licences and the development of freight planning agreements in keeping with the Government's freight transport aims.
• Freight plans p13 • Bus plans p18