Selection of topics for examination revision
3rd April 1970
Page 62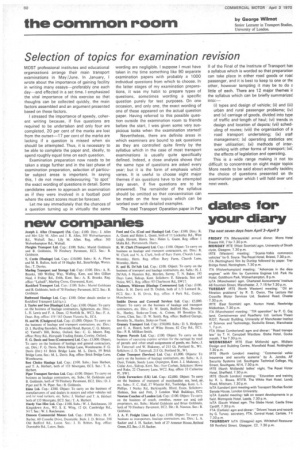 Page 62, 3rd April 1970 —
Selection of topics for examination revision
Close
MOST professional institutes and educational organizations arrange their main transport examinations in May/June. In January, I wrote about the importance of gaining facility in writing many essays-preferably one each day-and effected in a set time, I emphasized the vital importance of this exercise so that thoughts can be collected quickly, the main factors assembled and an argument presented based on these factors.
I stressed the importance of speedy, coherent writing because, if five questions are required to be undertaken and only four are completed, 20 per cent of the marks are lost from the outset-17 per cent of the marks are lacking if a question is missed when six should be attempted. Thus, it is necessary to be able to complete the paper and, ideally, to spend roughly equal time on each question.
Examination preparation now needs to be taken a stage further and in the last phase of examination preparation, selection of particular subject areas is important. In saying this, I do not mean endeavouring "to spot" the exact wording of questions in detail. Some candidates seem to approach an examination as if they were involved in a football pool where the exact scores must be forecast.
Let me say immediately that the chances of a question turning up in virtually the same wording are negligible. I suppose I must have taken in my time something like 90 separate examination papers with probably a 1000 individual questions from which to choose. In the latter stages of my examination preparations, it was my habit to prepare types of questions, sometimes wording a specific question purely for test purposes. On one occasion, and only one, the exact wording of one of these appeared on the actual question paper. Having referred to this possible question outside the examination room to friends before the start, I was given some very suspicious looks when the examination started!
Nevertheless, there are definite areas in which examiners are bound to ask questions as they are controlled quite firmly by the syllabus which in the case of most transport examinations is usually quite specifically defined. Indeed, a close analysis shows that the same type of questions are asked every year; but it is the form of emphasis which varies. It is useful to choose eight major themes if six questions have to be attempted (say seven, if five questions are to be answered). The remainder of the syllabus should be omitted so that concentration can be made on the few topics which can be worked over with detailed examples.
The road Transport Operation paper in Part II of the Final of the Institute of Transport has a syllabus which is worded so that preparation can take place in either road goods or roac passenger, and it is best to keep to one or the other, however tempting it may be to do E little of each. There are 12 major themes it the syllabus which can be briefly summarized into: 0) types and design of vehicle; (ii) and (iii) urban and rural passenger problems; (iv) and (v) carriage of goods, divided into type of traffic and length of haul; (vi) trends in design and location of depots; (vii) scheduling of routes; (viii) the organization of a road transport undertaking; (ix) staf management; (x) operating statistics anc their utilization; (xi) methods of interworking with other forms of transport; (xii; the effects of legislation and operating. This is a wide range making it not tom difficult to concentrate on eight major topics More needs to be said about actually tacklin!
the choice of questions presented on thi examination paper which I will hold over unti next week.