Q We have locally been informed of the ' 66 closure in
3rd April 1970
Page 61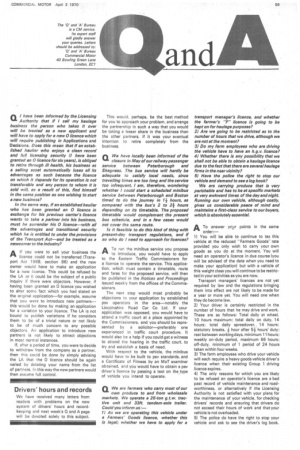 Page 61, 3rd April 1970 —
Q We have locally been informed of the ' 66 closure in
Close
May of our railway passenger service between Peterborough and Skegness. The bus service will hardly be adequate to satisfy local needs, since travelling times are too long and the service too infrequent. I am, therefore, wondering whether I could start a scheduled minibus service between Peterborough and Boston timed to do the journey in 1 hours, as compared with the bus's 2 to 21 hours depending on its timetable. The proposed timetable would complement the present bus schedule, and in a few cases would not cover the same route.
Is it feasible to do this kind of thing with present-day transport regulations, and if so who do I need to approach for licences?
ATo run the minibus service you propose
to introduce, you would have to apply to the Eastern Traffic Commissioners for a licence to operate the service. This application, which must contain a timetable, route and fares for the proposed service, will then be published in the Notices and Proceedings issued weekly from the offices of the Commissioners.
The next step would most probably be objections to your application by established psv operators in the area—notably the Lincolnshire Road Car Co Ltd. If your application was opposed, you would have to attend a traffic court at a place appointed by the Commissioners, and you should be represented by a solicitor—preferably one experienced in traffic court procedure. It would also be a help if you could get a witness to attend the hearing in the traffic court, to try and establish a basis of need.
With respect to the vehicle, the minibus would have to be built to psv standards, and a Certificate of Fitness by an MoT examiner obtained, and you would have to obtain a psv driver's licence by passing a test on the type of vehicle you intend to operate.