Price conclusions
3rd April 1970
Page 42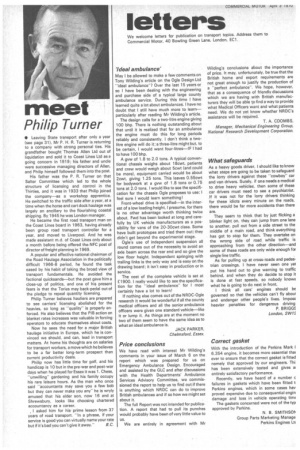 Page 42, 3rd April 1970 —
Price conclusions
Close
We have read with interest Mr Wilding's comments in your issue of March 6 on the report which was prepared for us on Emergency Ambulance Design. Encouraged and assisted by the GLC and after discussions with the Health Departments' Ambulance Services Advisory Committee, we commissioned the report to help us to find out if there is anything which NR DC can do to improve British ambulances and if so how we might set about it.
The full Report was not intended for publication. A report that had to pull its punches would probably have been of very little value to us.
We are entirely in agreement with Mr Wilding's conclusions about the importance of price. It may, unfortunately, be true that the British home and export requirements are not great enough to justify the production of a "perfect ambulance". We hope, however, that as a consequence of friendly discussions which we are having with British manufacturers they will be able to find a way to provide what Medical Officers want and what patients need. We do not yet know whether NRDC's assistance will be required.
T. A. COOMBS, Manager, Mechanical Engineering Group, National Research Development Corporation.