'Ideal ambulance'
3rd April 1970
Page 42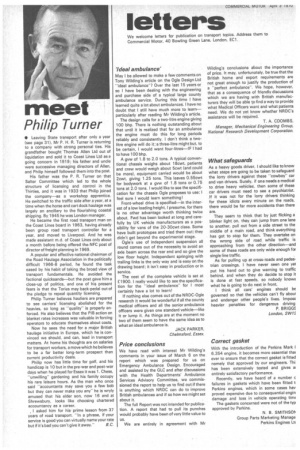 Page 42, 3rd April 1970 —
'Ideal ambulance'
Close
May I be allowed to make a few comments on Tony Wilding's article on the Ogle Design Ltd "ideal ambulance"? Over the last 15 years or so I have been dealing with the engineering and purchase side of a typical large county ambulance service. During this time I have learned quite a lot about ambulances. I have no doubt that I still have much more to learn— particularly after reading Mr Wilding's article.
The design calls for a two-litre engine giving 100 bhp. There is nothing outstanding about that until it is realized that for an ambulance the engine must do this for long periods reliably and consistently. I don't think a twolitre engine will do it; a three-litre might but, to be certain, I would want four-litres--IF I had to have 100 bhp.
A gvw of 1.8 to 2.0 tons. A typical conventional chassis weighs about 18cwt, patients and crew would weigh about 5cwt (and could be more), equipment carried would be about 2cwt, giving 1.25 tons. This leaves 0.55cwt for bodywork at a gvw of 1.8 tons or 0.75 tons at 2.0 tons. I would like to see the specification for the chassis Ogle proposes to use; I feel sure I would learn something!
Front-wheel drive is specified—in the interest of a low loading height. I presume, for there is no other advantage worth thinking twice about. Fwd has been looked at long and carefully by UK vehicle manufacturers as a possibility for vans of the 20-30cwt class. Some have built prototypes and tried them out; they didn't get beyond the experimental stage.
Ogle's use of independent suspension all round comes out of the necessity to avoid an axle beam across the rear end and so give the low floor height. Independent springing with trailing links is the only way and is easy on the drawing board; it isn't easy in production or in service.
The cost of the complete vehicle is set at £1900. I really would like to see the specification for the "ideal ambulance" for I most certainly have a lot to learn!
If nothing else comes out of the NR DC-Ogle research it would be wonderful if all the county medical officers and all the senior ambulance officers were given one standard vehicle—like it or lump it. As things are at the moment no two of them seem to have the same idea as to what an ideal ambulance is.
JACK PARKER, Chelmsford, Essex.