3 days all right 4 days not all right
3rd April 1970
Page 39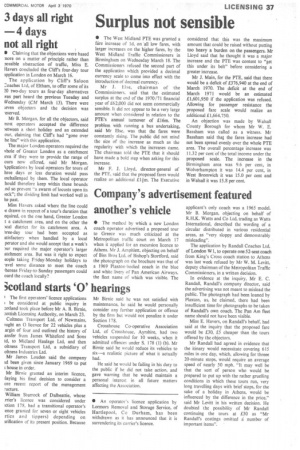 Page 39, 3rd April 1970 —
3 days all right 4 days not all right
Close
• Claiming that the objections were based :nore on a matter of principle rather than xissible abstraction of traffic, Miss E. Havers concluded the Cliff's four-day tour tpplication in London on March 16.
The application by Cliff's Saloon 7..oaches Ltd, of Eltham, to offer some of its ZO two-day tours as four-day alternatives was part heard the previous Tuesday and Wednesday (CM March 13). There were ;even objectors and the decision was .eserved.
Mr B. Morgan, for all the objectors, said nost operators accepted the difference )etween a short holiday and an extended our, claiming that Cliff's had "gone over he line" with this application.
The major London operators required the vhole of Greater London as a catchment trea if they were to provide the range of ours now offered, said Mr Morgan. kpplications by local operators for tours of hree days or less duration would pass inchallenged by them. The local operator hould therefore keep within these bounds .nd so prevent -a swarm of locusts upon its reek"; the dividing limit had worked well in he past.
Miss Havers asked where the line could re drawn in respect of a tour's duration that equired, on the one hand, Greater London t a catchment area, and on the other the )cal district for its catchment area. A hree-day tour had been accepted as atisfactory when handled by a local perator and she would accept that a week's )tir required the major operator's larger atchment area. But was it right to expect eople taking Friday-Monday holidays to .avel some distance to meet the coach thereas Friday-to-Sunday passengers could oard the coach locally?