People
3rd April 1970
Page 33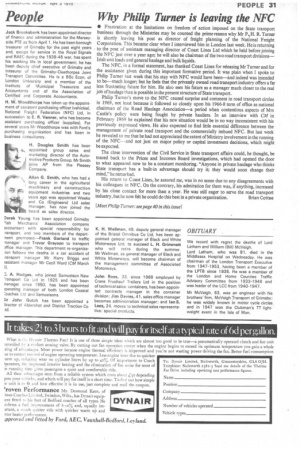 Page 33, 3rd April 1970 —
People
Close
Jack Brooksbank has been appointed director of finance and administration for the Merseyside PTE as from April 1. He has been borough treasurer of Grimsby for the past eight years and, except for service in the Royal Signals and RAEC during the 1939-45 war, has spent his working life in local government; he has been deputy chief executive of Grimsby and trdasurer of the Grimsby-Cleethorpes Joint Transport Committee. He is a BSc Econ. of London University and a member of the Institute of Municipal Treasurers and Accountants and of the Association of Certified and Corporate Accountants.
H. W. Woodthorpe has taken up the appointment of assistant purchasing officer (vehicles), National Freight Federation (NFC) Ltd, in succession to E. R. Vanner, who has become assistant purchasing officer (supplies). For several years Mr Woodthorpe was with Ford's purchasing organization and has been in business consultancy.
H. Douglas Smith has been appointed group sales and marketing director of the Automotive Products Group. Mr Smith 4: joins AP from the Plessey Company.
4
Allan G. Smith, who has had a long career in the agricultural machinery and construction equipment industries and two years ago was appointed Weeks and Co (Engineers) Ltd sales manager, has now joined the board as sales director.
Derek Young has been appointed Grimsby -7ish Merchants Association company 3ccountant with special responsibility for :ransport, and two members of the departnent promoted—Frank Garland to traffic nanager and Trevor Grayson to transport )ffice manager. This department re-organiza:ion follows the deaths in a car accident of .ransport manager Mr Harry Briggs and issistant manager Mr Cecil Ward (CM March 3).
3. A. Hodges, who joined Samuelson New "ransport Co Ltd in 1925 and has been nanager since 1950, has been appointed iperating manager of both London Coastal ;coaches Ltd and Samuelsons.
;ir John Gutch has been appointed a lirector of Aldershot and District Traction Co .td. K. H. Wellman, 49, deputy general manager of the Bristol Omnibus Co Ltd, has been appointed general manager of Black and White Motorways Ltd, to succeed L. H. Grimmett who will retire during the summer. Mr Wellman, as general manager of Black and White Motorways, will become chairman of the management committee of Associated Motorways.
John Ross, 33. since 1968 employed by Crane Fruehauf Trailers Ltd in the position of technical sales: containers, has been appointed contracts manager in the container division Jim Davies, 41, sales office manager becomes administration manager; and Ian S. Lees, 24, moves to technical sales representative: special products. We record with regret the deaths of Lord Latham and William (Bill) McVeigh.
Lord Latham, who was 81, died in the Middlesex Hospital on Wednesday. He was chairman of the London Transport Executive from 1947-1953, having been a member of the LPTB since 1935. He was a member of the London and Home Counties Traffic Advisory Committee from 1933-1946 and was leader of the LCC from 1940-1947.
Mr McVeigh, 63, was an engineer with his brothers' firm, McVeigh Transport of Grimsby: he was widely known in motor cycle circles and in 1947 won the Clubman's IT lightweight event in the Isle of Man.