By bus to The Octagon by Derek Moses
3rd April 1970
Page 31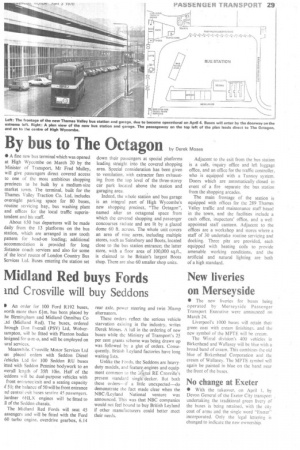 Page 31, 3rd April 1970 —
By bus to The Octagon by Derek Moses
Close
• A fine new bus terminal which was opened at High Wycombe on March 20 by the Minister of Transport, Mr Fred Mulley,. will give passengers direct covered access to one of the most ambitious shopping precincts to he built by a medium-size market town. The terminal, built for the Thames Valley Traction Co. Ltd, includes overnight parking space for 80 buses, routine servicing bay, bus washing plant and offices for the local traffic superintendent and his staff.
About 650 bus departures will be made daily from the 13 platforms on the bus station, which are arranged in saw tooth pattern for head-on loading; additional accommodation is provided for long distance coach services and also for some af the local routes of London Country Bus Services Ltd. Buses entering the station set down their passengers at special platforms leading straight into the covered shopping area. Special consideration has been given to ventilation, with extractor fans exhausting from the top level of the three-storey cr park located above the station and garaging area.
Indeed, the whole station and bus garage is an integral part of High Wycombe's new shopping precinct, "The Octagon", named after an octagonal space from which the covered shopping and passenger concourses radiate and are lit by a glazed dome 60 ft. across. The whole unit covers an area of nine acres, including multiple stores, such as Sainsbury and Boots, located close to the bus station entrance; the latter store, with a floor area of 100,000 sq.ft., is claimed to be Britain's largest Boots shop. There are also 60 smaller shop units. Adjacent to the exit from the bus station is a cafe, inquiry office and left luggage office, and an office for the traffic controller, who is equipped with a Tannoy system. Doors which are automatically closed in event of a fire separate the bus station from the shopping arcades.
The main frontage of the station is equipped with offices for the 289 Thames Valley traffic and maintenance staff based in the town, end the facilities include a cash office, inspectors' office, and a wellappointed staff canteen. Adjacent to the offices are a workshop and stores where a staff of 30 undertake routine servicing and docking. Three pits are provided, each equipped with heating coils to provide amenable working conditions, and the artificial and natural lighting are both of a high standard.