Hat-trick for Pullinger
3rd April 1970
Page 28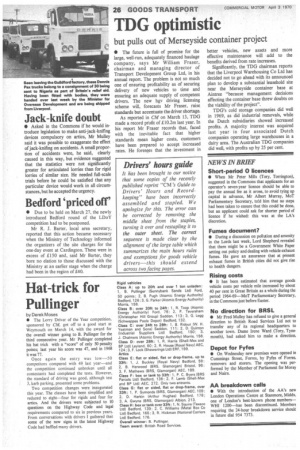 Page 28, 3rd April 1970 —
Hat-trick for Pullinger
Close
by Derek Moses
• The Lorry Driver of the Year competition. sponsored by CM, got off to a good start at Weymouth on March 14, with the award for the overall winner going to B. Pullinger for the third consecutive year. Mr Pullinger completed his hat trick with a "score" of only 50 penalty points; last year his score was 47, and in 1968 it was 77.
Once again the entry was low-50 competitors compared with 49 last year—and the competition continued unbroken until all contestants had completed the tests. However, the standard of driving was good, although test 3, kerb parking, presented some problems.
Two competition changes were inaugurated this year. The classes have been simplified and reduced to eight—four for rigids and four for attics. And the drivers were subjected to 10 questions on the Highway Code and legal requirements compared to six in previous years. From conversations with drivers I gathered that some of the new signs in the latest Highway Code had baffled many drivers.
Rigid vehicles
Class A: up to 20ft and over 1 ton unladen:
1, B. Pullinger (Sunnybank Sands Ltd/ Ford, 50 points; 2, B. Pugh (Atomic Energy Authority) Bedford, 126 3, G. Parker (Atomic Energy Authority) Morris, 158.
Class 13: over 20ft to 24ft : 1, ft loop (Atomic Energy Authority) Ford, 76: 2, P. Teversham (Christopher Hill Group) Seddon. 113; 3, G. Legg (Schweppes Poole Depot) Bedford, 132.
. Class C: over 24ft to 28ft: 1, B. Ridout (W. H. Yeatman and Sons! Seddon, 111; 2. D. Quinton (Industrial Suppliers Ltd) Bedford, 150; 3, J. Chalmers (Atomic Energy Authority) Morris, 156. Class D: over 28ft: 1, R. Harris (Shell-Mex and BP Ltd) Leyland, 60; 2, Ft. House (Royal Navy) AEC, 124 ; 3, F. Lock (Showerings Ltd) ERF, 199.
Artics
Class E: flat or sided, flat or drop-frame, up to 33ft: 1, J. Buckley (Royal Navy) Bedford, 59: 2, B. Harwood (BRS, Glamorgan) Bristol, 96; 1 F. Mathews (BRS, Glamorgan) AEC, 189. Class F: box or tank to 33ft : 1, P. C. Byers (BRS Parcels Ltd) Bedford, 136: 2, F. Lamb IShell-Mex and BP Ltd) AEC, 272. Only two entrants. Class G: flat or sided, flat or drop-frame, over 33ft; 1. P. Symonds IBRS, Glamorgan) AEC. 109; 2, D. Harkin (Arthur Hughes) Bedford, 178; 3. A. Gwyne (BRS, Glamorgan) Albion, 213. Class H : box or tank over 33ft : 1, N. Squire (Texaco Ltd) Bedford, 139: 2. C. Williams (Metal Box Co Ltd), Bedford, 165; 3, R. Hickman (National Carriers Ltd) Bedford, 176.
Overall winner: B. Pullinger.
Team award: British Road Services.