Service for industry
3rd April 1970
Page 23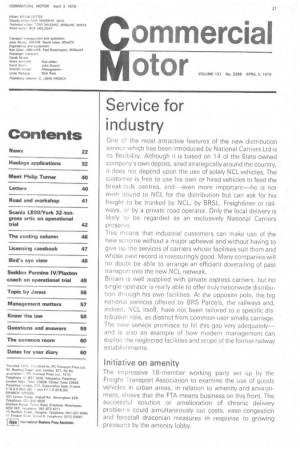 Page 23, 3rd April 1970 —
Service for industry
Close
One of the most attractive features of. the new distribution service which has been introduced by National Carriers Ltd is its flexibility. Although it is based on 14 of the State-owned company's own depots, sited strategically around the country, it does not depend upon the use of solely NCL vehicles. The customer is free to use his own or hired vehicles to feed the break-bulk centres, and---even more important—he is not even bound to NCL for the distribution but can ask for his freight to be trunked by NCL, by BRSL, Freightliner or railways, or by a private road operator. Only the local delivery is likely to be regarded as an exclusively National Carriers preserve.
This means that industrial customers can make use of the new scheme without a major upheaval and without having to give up the services of carriers whose facilities suit them and whose past record is reassuringly good. Many companies will no doubt be able to arrange an efficient dovetailing of past transport into the new NCL network.
Britain is well supplied with private express carriers, but no single operator is really able to offer truly nationwide distribution through his own facilities. At the opposite pole, the big national services ,offered by BRS Parcels, the railways and, indeed, NCL itself, have not been tailored to a specific distribution role, as distinct from common-user smalls carriage. The new service promises to fill this gap very adequately and is also an example of how modern management can exploit the neglected facilities and scope of the former railway establishments.
Initiative on amenity
The impressive 18-member working party set up by the Freight Transport Association to examine the use of goods vehicles in urban areas, in relation to amenity and environment, shows that the FTA means business on this front. The successful solution or amelioration of chronic delivery problems could simultaneously cut costs, ease congestion and forestall draconian measures in response to growing pressures by the amenity lobby.