Horns
31st May 1968
Page 65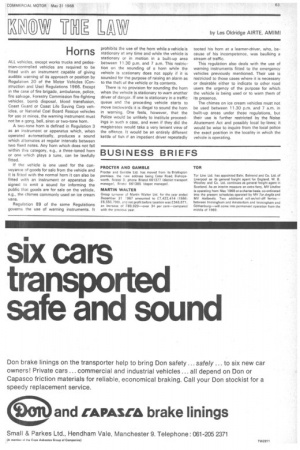 Page 65, 31st May 1968 —
Horns
Close
ALL vehicles, except works trucks and pedestrian-controlled vehicles are required to be fitted with an instrument capable of giving audible warning of its approach or position by Regulation 20 of the Motor Vehicles (Construction and Use) Regulations 1966. Except in the case of fire brigade, ambulance, police, fire salvage, Forestry Commission fire-fighting vehicles, bomb disposal, blood transfusion, Coast Guard or Coast Life Saving Corp vehicles, or National Coal Board Rescue vehicles for use at mines, the warning instrument must not be a gong, bell, siren or two-tone horn.
A two-tone horn is defined in Regulation 3 as an instrument or apparatus which, when operated automatically, produces a sound which alternates at regular intervals between two fixed notes. Any horn which does not fall within this category, e.g., a three-toned horn or one which plays a tune, can be lawfully fitted.
If the vehicle is one used for the conveyance of goods for sale from the vehicle and it is fitted with the normal horn it can also be fitted with an instrument or apparatus designed to emit a sound for informing the public that goods are for sale on the vehicle, e.g., the chimes commonly used on ice cream vans.
Regulation 89 of the same Regulations governs the use of warning instruments. It prohibits the use of the horn while a vehicle is stationary at any time and while the vehicle is stationary or in motion in a built-up area between 11.30 p.m. and 7 a.m. This restriction on the sounding of a horn while the vehicle is stationary does not apply if it is sounded for the purpose of raising an alarm as to the theft of the vehicle or its contents.
There is no provision for sounding the horn when the vehicle is stationary to warn another driver of danger. I4 one is stationary in a traffic queue and the preceding vehicle starts to move backwards it is illegal to sound the horn in warning. One feels, however, that the Police would be unlikely to institute proceedings in such a case, and even if they did the magistrates would take a very lenient view of the offence. It would be an entirely different kettle of fish if an impatient driver repeatedly tooted his horn at a learner-driver, who, because of his incompetence, was baulking a stream of traffic.
This regulation also deals with the use of warning instruments fitted to the emergency vehicles previously mentioned. Their use is restricted to those cases where it is necessary or desirable either to indicate to other road users the urgency of the purpose for which the vehicle is being used or to warn them of its presence.
The chimes on ice cream vehicles must not be used between 11.30 p.m. and 7 a.m. in built-up areas under these regulations, but their use is further restricted by the Noise Abatement Act and possibly local by-laws: it would be wise to inquire from the local police the exact position in the locality in which the vehicle is operating.