ADVANCED CONTAINER HANDLING METHODS
31st May 1968
Page 54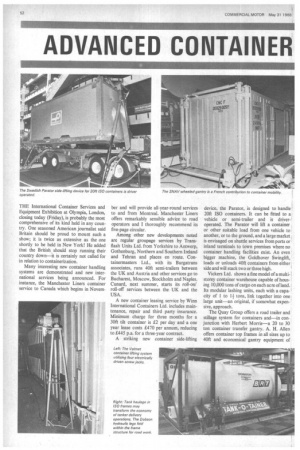 Page 55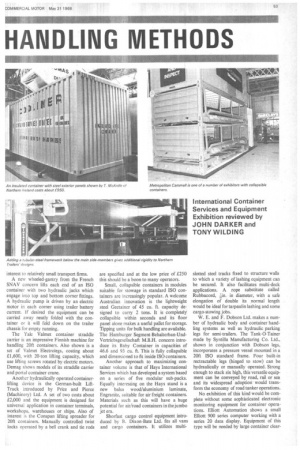 Page 56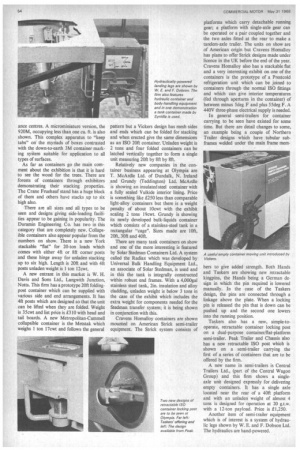 Page 54, 31st May 1968 —
ADVANCED CONTAINER HANDLING METHODS
Close
Keywords :
Transport
,
Intermodal Containers
,
Technology
,
Containerization
,
Twistlock
,
Container Crane
,
Straddle Carrier
,
Freight Rail Transport
,
Tank Container
,
Semi-trailer Truck
,
Crane
,
Cargo
,
Hospitality / Recreation
THE International Container Services and Equipment Exhibition at Olympia, London, closing today (Friday), is probably the most comprehensive of its kind held in any country. One seasoned American journalist said Britain should be proud to mount such a show; it is twice as extensive as the one shortly to be held in New York! He added that the British should stop running their country down—it is certainly not called for in relation to containerization.
Many interesting new container handling systems are demonstrated and new international services being announced. For instance, the Manchester Liners container service to Canada which begins in Novem
ber and will provide all-year-round services to and from Montreal. Manchester Liners offers remarkably sensible advice to road operators and I thoroughly recommend its five-page circular.
Among other new developments noted are regular groupage services by Transflash Units Ltd. from Yorkshire to Antwerp, Gothenburg, Northern and Southern Ireland and Tehran and places en route. Containermasters Ltd., with its Burgatrans associates, runs 40ft semi-trailers between the UK and Austria and other services go to Bucharest, Moscow, Stockholm and Naples. Cunard, next summer, starts its roll-on/ roll-off services between the • UK and the USA.
A new container leasing service by Winn International Containers Ltd. includes maintenance, repair and third party insurance. Minimum charge for three months for a 30ft tilt container is £2 per day and a one year lease costs £470 per annum, reducing to £445 p.a. for a three-year contract.
A striking new container side-lifting device, the Parator, is designed to handle 20ft ISO containers. It can be fitted to a vehicle or semi-trailer and is driveroperated. The Parator will lift a container or other suitable load from one vehicle to another, or to the ground, arid a large market is envisaged on shuttle services from ports or inland terminals to town premises where no container handling facilities exist. An even bigger machine, the Goldhover Swinglift, loads or unloads 40ft containers from either side and will stack two or three high.
Vickers Ltd. shows a fine model of a multistorey container warehouse capable of housing 10,000 tons of cargo on each acre of land.. Its modular lashing units, each with a capacity of 1 to 11 tons, link together into one large unit—an original, if somewhat expensive, approach.
The Quay Group offers a road trailer and stillage system for containers and—in conjunction with Herbert Morris—a 20 to 30 ton container transfer gantry. A. H. Allen offers container top frames in all sizes up to 40ft and economical gantry equipment of interest to relatively small transport firms.
A new wheeled-gantry from the French SNAV concern lifts each end of an ISO container with two hydraulic jacks which engage into top and bottom comer fittings. A hydraulic pump is driven by an electric motor in each corner using trailer battery current. If desired the equipment can be carried away neatly folded with the container or it will fold down on the trailer chassis for empty running.
The Yale Valmet container straddle carrier is an impressive Finnish machine for handling 2011 containers. Also shown is a set of Valmet Electrolegs, costing about £1,600, with 20-ton lifting capacity, which use lifting screws rotated by electric motors. Demag shows models of its straddle carrier and portal container crane.
Another hydraulically operated containerlifting device is the German-built LiftTruck introduced by Price and Pierce (Machinery) Ltd. A set of two costs about £2,000 and the equipment is designed for universal application in container terminals, workshops, warehouses or ships. Also of interest is the Conspan lifting spreader for 2011 containers. Manually controlled twist locks operated by a bell crank and tie rods are specified and at the low price of £250 this should be a boon to many operators.
Small, collapsible containers in modules suitable for stowage in standard ISO containers are increasingly popular. A welcome Australian innovation is the lightweight steel Geetainer of 45 Cu. ft. capacity designed to carry 2 tons. It is completely collapsible within seconds and its floor panel alone makes a useful pallet for storage. Tipping units for bulk handling are available. The Hamburger Segment-Behalterbart-UndVertriebsgesellschaft M.B.H. concern introduce its Baby Container in capacities of 46.6 and 93 cu. ft. This is fully collapsible and dimensioned to fit inside ISO containers.
Another approach to maximizing container volume is that of Hays International Services which has developed a system based on a series of fi_ve modular sub-packs. Equally interesting on the Hays stand is a new balsa wood/aluminium laminate, Engranite, suitable for air freight containers. Materials such as this will have a huge potential for air/road containers in the jumbo jet era.
Shorfast cargo control equipment introduced by B. Dixon-Bate Ltd. fits all vans and cargo containers. It utilizes multi slotted steel tracks fixed to structure wall% to which a variety of lashing equipment can be secured. It also facilitates multi-deck applications. A rope substitute called Rubbacord, Zin. in diameter, with a safe elongation of double its normal length would be ideal for tarpaulin lashing and some cargo-stowing jobs.
W. E. and F. Dobson Ltd. makes a number of hydraulic body and container handling systems as well as hydraulic parking legs for semi-trailers. The Tank-O-Tainer made by Syntilla Manufacturing Co. Ltd., shown in conjunction with Dobson legs, incorporates a pressure vessel mounted in a 2011 ISO standard frame. Four built-in rectractable legs (hinged to stow) can be hydraulically or manually operated. Strong enough to stack six high, this versatile equipment can be conveyed by road, rail or sea and its widespread adoption ' would transform the economy of road tanker operations.
No exhibition of this kind would be complete without some sophisticated electronic monitoring equipment for container operations. Elliott Automation shows a small Elliott 900 series computer working with a series 20 data display. Equipment of this type will be needed by large container clear ance centres. A microminiature version, the 920M, occupying less than one cu. ft. is also shown. This complex apparatus to "keep tabs" on the myriads of boxes contrasted with the down-to-earth 3M container marking system suitable for application to all types of surfaces.
As far as containers go the main comment about the exhibition is that it is hard to see the wood for the trees. There are forests of containers through exhibitors demonstrating their stacking properties. The Crane Fruehauf stand has a huge block of them and others have stacks up to six high also.
There are all sizes and all types to be seen and designs giving side-loading facilities appear to be gaining in popularity. The Duramin Engineering Co. has two in this category that are completely new. Collapsible containers also appear popular from the numbers on show. There is a new York stackable "flat" for 20-ton loads which comeswith either 4ft or 8ft corner posts and these hinge away for unladen stacking up to six high. Length is 20ft and with 4ft posts unladen weight is 1 ton 12cwt.
A new entrant in this market is W. H. Davis and Sons Ltd., Langwith Junction, Notts. This firm has a prototype 20ft foldingpost container which can be supplied with various side and end arrangements. It has 4ft posts which are designed so that the unit can be lifted when they are folded. Weight is 35cwt and list price is £310 with head and tail boards. A new Metropolitan-Cammell collapsible container is the Metstak which weighs 1 ton 17cwt and follows the general
pattern but a Vickers design has mesh sides and ends which can be folded for stacking and when erected give the same dimensions as an ISO 20ft container. Unladen weight is 2 tons and four folded containers can be latched vertically together to form a single unit measuring 20ft by 8ft by 8ft.
Relatively new companies in the container business appearing at Olympia are T. McArclle Ltd. of Dundalk, N. Ireland and Grundy (Teddington) Ltd. McArdle is showing an insulated steel container with a fully sealed Vulkide interior lining. Price is something like £250 less than comparable light-alloy containers but there is a weight penalty of about lOcwt with the exhibit scaling 2 tons 19cwt. Grundy is showing its newly developed bulk-liquids container which consists of a stainless-steel tank in a rectangular "cage". Sizes made are 10ft, 20ft, 30ft and 40ft.
There are many tank containers on show and one of the more interesting is featured by Solar Stedman Containers Ltd. A system called the Radiax which was developed by Universal Bulk Handling Equipment Ltd., an associate of Solar Stedman, is used and in this the tank is integrally constructed within robust end frames. With a 4,000gal stainless steel tank, 2in. insulation and alloy cladding, unladen weight is below 3 tons in the case of the exhibit which includes the extra weight for components needed for the Stedman transfer system; it is being shown in conjunction with this.
Cravens Homalloy containers are shown mounted on American Strick semi-trailer equipment. The Strick system consists of platforms which carry detachable running gear; a platform with single-axle gear can be operated or a pair coupled together and the two axles fitted at the rear to make a tandem-axle trailer. The units on show are of American origin but Cravens Homalloy has plans to offer Strick designs made under licence in the UK before the end of the year. Cravens Homalloy also has a stackable flat and a very interesting exhibit on one of the containers is the prototype of a Prestcold refrigeration unit which can be joined to containers through the normal ISO fittings and which can give interior temperatures (fed through apertures in the container) of between minus 5deg F and plus 55deg F. A 440V three-phase electrical supply is needed.
In general semi-trailers for container carrying to be seen have existed for some time. But there are detail changes to some, an example being a couple of Northern Trailer designs which have tubular subframes welded under the main frame mem bers to give added strength. Both Hands and Taskers are showing new retractable kingpins, the Hands being a German design in which the pin required is lowered manually. In the case of the Taskers design, the pins are connected through a linkage above the plate. When a locking pin is released the pin that is down can be pushed up and the second one lowers into the running position.
Taskers also has a new, simple-tooperate, retractable container locking post on a dual-purpose container/flat-platform semi-trailer. Peak Trailer and Chassis also has a new retractable ISO post which is shown on a semi-trailer carrying the first of a series of containers that are to be offered by the firm.
A new name in semi-trailers is Central Trailers Ltd., (part of the Central Wagon Group) and this firm shows a singleaxle unit designed expressly for delivering empty containers. It has a single axle located near the rear of a 40ft platform and with an unladen weight of almost 4 tons is designed for operation at 20 g.t.w. with a 12-ton payload. Price is £1,250.
Another item of semi-trailer equipment which is of interest is a system of hydraulic legs shown by W. E. and F. Dobson Ltd. The hydraulics are hand-powered.