*Way-out
31st May 1968
Page 45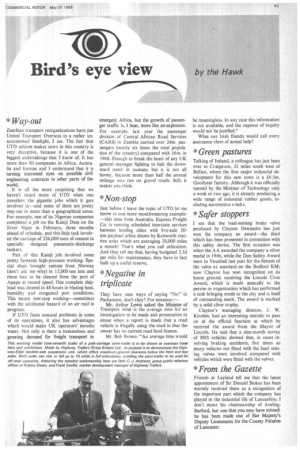 Page 45, 31st May 1968 —
*Way-out
Close
Zambian transport reorganizations have put United Transport Overseas in a rather unaccustomed limelight, I see. The fact that UTO seldom makes news in this country is very deceptive, because it is one of the biggest undertakings that I know of. It has more than 80 companies in Africa, Australia and Europe and I understand that it is turning interested eyes on possible civil engineering contracts in other parts of the world.
It is all the more surprising that we haven't heard more of UTO when one considers the gigantic jobs which it gets involved in—and some of them are pretty way-out in more than a geographical sense. For example, one of its Nigerian companies completed a job on the Kainji Dam on the River Niger in February, three months ahead of schedule, and this little task involved the carriage of 226,000 tons of cement in specially designed pneumatic-discharge tankers.
Part of this Kainji job involved some pretty fantastic high-pressure working. Special ships brought cement from Norway (don't ask me why) in 12,000-ton lots and these had to be cleared from the port of .Apapa at record speed. One complete shipload was cleared in 48 hours in blazing heat, humidity and congested port conditions. This meant non-stop working—sometimes with the additional hazard of an air raid in progress.
If UTO faces unusual problems in some of its operations, it also has advantages which would make UK operators' mouths water. Not only is there a tremendous and growing demand for freight transport in emergent Africa, but the growth of passenger traffic is, I hear, more like an explosion. For example, last year the passenger division of Central African Road Services (CARS) in Zambia carried over 24m. passengers (nearly six times the total population of the country) compared with 16m, in 1966. Enough to break the heart of any UK general manager fighting to halt the downward trend in custom; but it is not all honey, because more than half the annual mileage was run on gravel roads. Still, it makes you think.