KEEPING THEM ' RUNNING % .. ,v . ith Ron Cater
31st May 1968
Page 39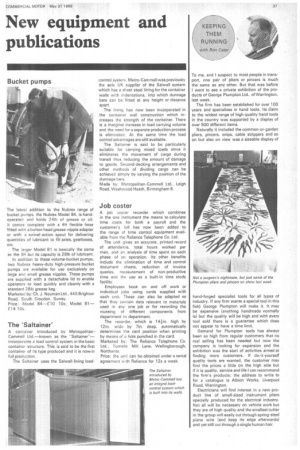 Page 39, 31st May 1968 —
KEEPING THEM ' RUNNING % .. ,v . ith Ron Cater
Close
Keywords :
Technology
,
Pliers
,
Metalworking
,
Metalworking Hand Tools
,
Electric Power
,
Electrical Wiring
,
Electrician
,
Pincer
,
Tool
,
Snips
,
Klein Tools
,
Knipex
,
Technology / Internet
To me, and I suspect to most people in transport, one pair of pliers or pincers is much the same as any other. But that was before I went to see a private exhibition of the products of George Plumpton Ltd., of Warrington, last week.
The firm has been established for over 100 years and specializes in hand tools. Its claim to the widest range of high-quality hand tools in the country was supported by a display of over 500 different items.
Naturally it included the common-or-garden pliers, pincers, snips, cable strippers and so on but also on view was a sizeable display of hand-forged specialist tools for all types of industry. If any firm wants a special tool in this field George Plumpton will make it. It may be expensive (anything handmade normally is) but the quality will be high and with every tool sold there is a guarantee which does not appear to have a time limit.
Demand for Plurnpton tools has always been so high from regular customers that no real selling has been needed but now the company is looking for expansion and the exhibition was the start of activities aimed at finding more customers. If do-it-yourself quality tools are wanted, the customer may find the prices a little on the high side but if it is quality, service and life I can recommend the firm's products; the address to write to for a catalogue is Albion Works, Liverpool Road, Warrington.
Electricians will find interest in a new product line of small sized instrument pliers specially produced for the electrical industry. Not all will be necessary on vehicle work but they are of high quality and the smallest cutter in the group will easily cut through spring-steel piano wire (and keep its edge afterwards) and yet still cut through a single human hair.