Newcomer's neat passenger counter for o-m-o double-deckers
31st May 1968
Page 33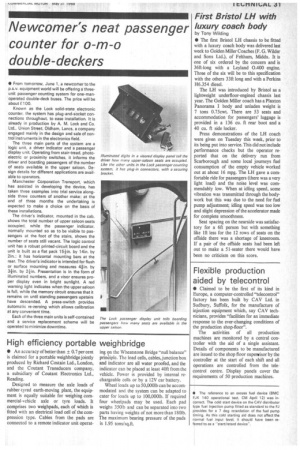 Page 33, 31st May 1968 —
Newcomer's neat passenger counter for o-m-o double-deckers
Close
• From tomorrow, June 1, a newcomer to the p.s.v. equipment world will be offering a threeunit passenger counting system for one-manoperated double-deck buses. The price will be about E 100.
Known as the Lock solid-state electronic counter, the system has plug-and-socket connections throughout, to ease installation. It is already in production by A. M. Lock and Co. Ltd., Union Street, Oldham, Lanes, a company engaged mainly in the design and sale of control instruments in the electronics field.
The three main parts of the system are a logic unit, a driver indicator and a passenger display unit. Operating from stair-tread, photoelectric or proximity switches, it informs the driver and boarding passengers of the number of seats available in the upper saloon. Design details for different applications are available to operators.
Manchester Corporation Transport, which has assisted in developing the device, has taken three examples into trial service alongside three counters of another make; at the end of three months the undertaking is expected to make a choice on the basis of these installations.
The driver's indicator, mounted in the cab, shows the total number of upper saloon seats occupied, while the passenger indicator, normally mounted so as to be visible to passengers at the foot of the stairs, shows the number of seats still vacant. The logic control unit has a robust printed-circuit board and the unit is built as a flat pack 15-1-in. by 14in. by 2in.; it has horizontal mounting bars at the rear. The driver's indicator is intended for flush or surface mounting and measures 41in. by 31in. by 21in. Presentation is in the form of illuminated numbers, and a visor ensures proper display even in bright sunlight. A red warning light indicates when the upper saloon is full, while the memory circuit ensures that it remains on until standing passengers upstairs have descended. A press-switch provides automatic re-zeroing which allows calibration at any convenient time.
Each of the three main units is self-contained and a service replacement scheme will be operated to minimize downtime.