First Bristol LH with luxury coach body
31st May 1968
Page 33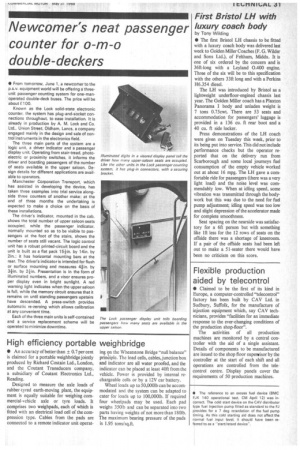 Page 33, 31st May 1968 —
First Bristol LH with luxury coach body
Close
by Tony Wilding • The first Bristol LH chassis to be fitted with a luxury coach body was delivered last week to Golden Miller Coaches (F. G. Wilder and Sons Ltd.), of Feltham, Middx. It is one of six ordered by the concern and is 36ft-long with a Leyland 0.400 engine. Three of the six will be to this specification with the others 33ft long and with a Perkins H6.354 diesel.
The LH was introduced by Bristol as a lightweight underfloor-engined chassis last year. The Golden Miller coach has a Plaxton Panorama I body and unladen weight is 7 tons 0.75cwt. There are 53 seats and accommodation for passengers' luggage is provided in a 136 cu. ft rear boot and a 40 cu. ft side locker.
Press demonstrations of the LH coach were given on Tuesday this week, prior to its being put into service. This did not include performance checks but the operator reported that on the delivery run from Scarborough and some local journeys fuel consumption of the empty vehicle worked out at about 16 mpg. The LH gave a comfortable ride for passengers (there was a very light load) and the noise level was commendably low. When at idling speed, some vibration was transmitted through the bodywork but this was due to the need for fuel pump adjustment; idling speed was too low and slight depression of the accelerator made for complete smoothness.
Seat spacing on the nearside was satisfactory for a 6ft person but with something like lft less for the 12 rows of seats on the offside there was a shortage of kneeroom. If a pair of the offside seats had been left out to make a 51-seater there would have been no criticism on this score.