Stop wasteful objections LA
31st May 1968
Page 26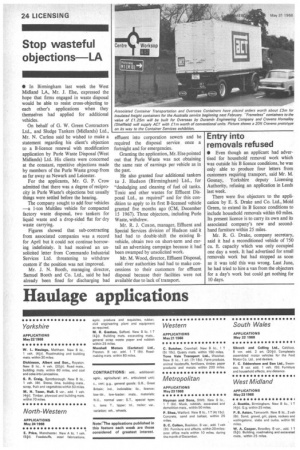 Page 26, 31st May 1968 —
Stop wasteful objections LA
Close
• In Birmingham last week the West Midland LA, Mr. J. Else, expressed the hope that firms engaged in waste disposal would be able to resist cross-objecting to each other's applications when they themselves had applied for additional vehicles.
On behalf of G. W. Green Contractors Ltd., and Sludge Tankers (Midlands) Ltd, Mr. N. Carless said he wished to make a statement regarding his client's objection to a B-licence renewal with modification application by Purle Waste Disposal (West Midlands) Ltd. His clients were concerned at the constant, repetitive objections made by members of the Purle Waste group from as far away as Newark and Leicester.
For the applicants, Mr. G. P. Crow admitted that there was a degree of reciprocity in Purle Waste's objections but usually things were settled before the hearing.
The company sought to add four vehicles —a 1-ton Multileu vehicle for compacted factory waste disposal, two tankers for liquid waste and a drop-sided fiat for dry waste carrying.
Figures showed that sub-contracting from associated companies was a record for April but it could not continue borrowing indefinitely. It had received an unsolicited letter from Commando Industrial Services Ltd. threatening to withdraw custom if the position was not improved.
Mr. J. N. Booth, managing director, Samuel Booth and Co. Ltd., said he had already been fined for discharging bad effluent into corporation sewers and he required the disposal service once a fortnight and for emergencies.
Granting the application, Mr. Else pointed out that Purle Waste was not obtaining the same rate of earnings per vehicle as in the past.
He also granted four additional tankers to J. Hudson (Birmingham) Ltd., for "desludging and cleaning of fuel oil tanks. Toxic and other wastes for Effluent Disposal Ltd., as required" and for this condition to apply to its first B-licensed vehicle granted five months ago (CM, December 15 1967). Three objectors, including Purle Waste, withdrew.
Mr. R. J. Coxon, manager, Effluent and Special Services division of Hudson said it had had to double-shift the existing Bvehicle, obtain two on short-term and curtail an advertising campaign because it had ' been swamped by unsolicited work.
Mr. M. Wood, director, Effluent Disposal, said river authorities had had to make concessions to their customers for effluent disposal because their facilities were not available due to lack of transport.