LA hands out suspensions to women operators
31st May 1968
Page 20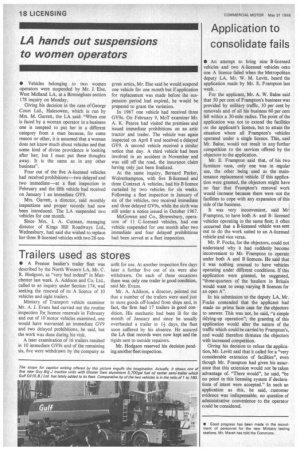 Page 20, 31st May 1968 —
LA hands out suspensions to women operators
Close
• Vehicles belonging to two women operators were suspended by Mr. J. Else, West Midland LA, at a Birmingham section 178 inquiry on Monday.
Giving his decision in the case of George Court Ltd., Halesowen, which is run by Mrs. M. Garrett, the LA said: "When one is faced by a woman operator in a business one is tempted to put her in a different category from a man because, for some reason or other, it is assumed that a woman does not know much about vehicles and that some kind of divine providence is looking after her, but I must put these thoughts away. It is the same as in any other business".
Four out of the five A-licensed vehicles had received prohibitions—two delayed and two immediate---at a fleet inspection in February and the fifth vehicle had received on January 1 an immediate GV9.
Mrs. Garrett, a director, said monthly inspections and proper records had now been introduced. The LA suspended two vehicles for one month.
Since Mrs. I. A. Catman, managing director of Kings Hill Roadways Ltd., Wednesbury, had said she wished to replace her three B-licensed vehicles with two 28-ton gross artics, Mr. Else said he would suspend one vehicle for one month but if application for replacement was made before the suspension period had expired, he would be prepared to grant the variation.
In 1967 one vehicle had received three GV9s. On February 9, MoT examiner Mr. A. K. Pearce had visited the premises and issued immediate prohibitions on an artic tractor and trailer. The vehicle was again inspected on April 8 and received a delayed GV9. A second vehicle received a similar notice that day. A third vehicle had been involved in an accident in November and was still off the road, the insurance claim having only just been finalized.
At the same inquiry, Bernard Parker, Wolverhampton, with five B-licensed and three Contract A vehicles, had his B licence curtailed by two vehicles for six weeks. Following a fleet inspection in January of six of the vehicles, two received immediate and three delayed GV9s, while the sixth was still under a notice issued in October 1967.
McGowan and Co., Shrewsbury, operators of 11 C-licensed vehicles, had one vehicle suspended for one month after two immediate and four delayed prohibitions had been served at a fleet inspection.