Application to consolidate fails
31st May 1968
Page 20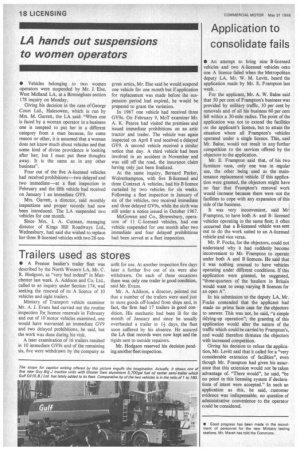 Page 20, 31st May 1968 —
Application to consolidate fails
Close
• An attempt to bring nine B-licensed vehicles and two A-licensed vehicles onto one A licence failed when the Metropolitan deputy LA, Mr. W. M. Levitt, heard the application made by Mr. E. Frampton last week. _ For the applicant, Mr. A. W. Balne said that 50 per cent of Frampton's business was provided by military traffic, 10 per cent by removals and of all his business 60 per cent fell within a 30-mile radius. The point of the application was not to extend the facilities on the applicant's licence, but to attain the situation where all Frampton's vehicles operated under a single licence. This, said Mr. Balne, would not result in any further competition to the services offered by the objectors to the application.
Mr. E. Frampton said that, of his two furniture vans, only one was in regular use, the other being used as the maintenance replacement vehicle. If this application were granted, the objectors might have no fear that Frampton's removal work would increase because there were not the facilities to cope with any expansion of this side of the business. It was very inconvenient, said Mil Frampton, to have both Aand Blicensed vehicles operating in the same fleet; it often occurred that a B-licensed vehicle was sent out to do the work suited to an A-licensed vehicle and vice versa.
Mr. P. Focke, for the objectors, could not understand why it had suddenly become inconvenient to Mr. Frampton to operate under both A and B licences. He said that it was nothing unusual to have vehicles operating under different conditions. If this application were granted, he suggested, "three-quarters of the hauliers in Britain would want to swap varying B licences for an open A".
In his submission to the deputy LA, Mr. Focke contended that the applicant had made no prima facie case for the objectors to answer. This was not, he said, "a simple tidying-up operation"; the granting of this application would alter the nature of the traffic which could be carried by Frampton's, and would therefore threaten the objectors with increased competition.
Giving his decision to refuse the application, Mr. Levitt said that it called for a "very considerable extension of facilities", even though Mr. Frampton had given his assurance that this extension would not be taken advantage of. "There would", he said, "be no point in this licensing system if declarations of intent were accepted." In such an application as this, he said, customer evidence was indispensable; no question of administrative convenience to the operator could be considered.