Freight rates rejected
31st May 1968
Page 18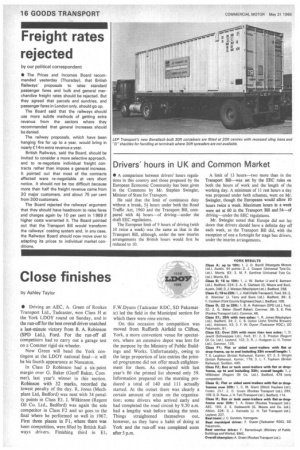 Page 18, 31st May 1968 —
Freight rates rejected
Close
by our political correspondent
II The Prices and Incomes Board recommended yesterday (Thursday), that British Railways proposals to raise standard passenger fares and bulk and general marchandize freight rates should be rejected. But they agreed that parcels and sundries, and passenger fares in London only, should go up.
The Board said that the railways should use more subtle methods of getting extra revenue from the sectors where they recommended that general increases should be denied.
The railway proposals, which have been hanging fire for up to a year, would bring in nearly £14m extra revenue a year.
British Railways, said the Board, should be invited to consider a more selective approach, and to re-negotiate individual freight contracts rather than impose a general increase. It pointed out that most of the contracts affected were re-negotiable at very short notice. It should not be too difficult because more than half the freight revenue came from 30 major customers, and about 75 per cent from 300 customers.
The Board rejected the railways' argument that they should have headroom to raise fares and charges again by 10 per cent in 1969 if higher costs warranted it. The Board pointed out that the Transport Bill would transform the railways' costing system and, in any case, the Railways Board should now move over to adapting its prices to individual market conditions.