As Liverpool crews go back
31st May 1968
Page 14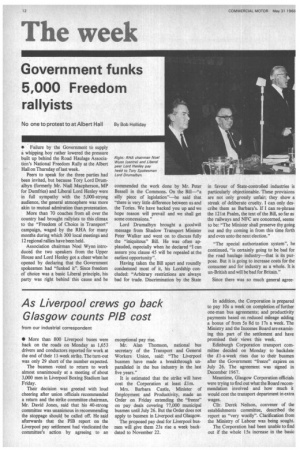 Page 15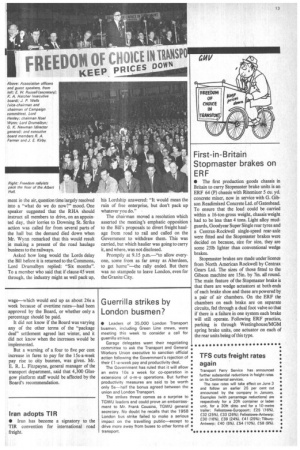 Page 14, 31st May 1968 —
As Liverpool crews go back
Close
Glasgow counts PIB cost
from our industrial correspondent • More than 800 Liverpool buses were back on the roads on Monday as 1,653 drivers and conductors reported for work at the end of their 11-week strike. The turn-out was only 29 short of the number expected.
The busmen voted to return to work almost unanimously at a meeting of about 3,000 men in Liverpool Boxing Stadium last Friday.
Their decision was greeted with loud cheering after union officials recommended a return and the strike committee chairman, Mr. David Jones, said that his 40-strong committee was unanimous in recommending the stoppage should be called off. He said afterwards that the •PIB report on the Liverpool pay settlement had vindicated the committee's action by agreeing to an exceptional pay rise.
Mr. Alan Thomson, national bus secretary of the Transport and General Workers Union, said: "The Liverpool busmen have made a breakthrough unparalleled in the bus industry in the last five years."
It is estimated that the strike will have cost the Corporation at least Lim.
Mrs. Barbara Castle, Minister of Employment and Productivity, made an Order on Friday extending the "freeze" on pay deals covering 77,000 municipal busmen until July 26. But the Order does not apply to busmen in Liverpool and Glasgow.
The proposed pay deal for Liverpool busmen will give them 23s rise a week backdated to November 22. In addition, the Corporation is prepared to pay 10s a week on completion of further one-man bus agreements; and productivity payments based on reduced mileage adding a bonus of from 5s 8d to 17s a week. The Ministry and the Incomes Board are examining this part of the settlement and have promised their views this week.
Edinburgh Corporation transport committee decided on Monday to backdate the £1-a-week rises due to their busmen after the Government "freeze" expires on July 26. The agreement was signed in December 1967.
Meantime, Glasgow Corporation officials were trying to find out what the Board recommendation involved and how much it would cost the transport department in extra wages.
Cllr. Derek Nelson, convener of the establishments committee, described the report as "very woolly". Clarification from the Ministry of Labour was being sought.
The Corporation had been unable to find out if the whole 15s increase in the basic wage—which would end up as about 26s a week because of overtime rates—had been approved by the Board, or whether only a percentage should be paid.
It did not know if the Board was varying any of the other terms of the "package deal" settlement agreed last winter, and it did not know when the increases would be implemented.
But a warning of a four to five per cent increase in fares to pay for the 15s-a-week pay rise to city busmen, was given. Mr. E. R. L. Fitzpayne, general manager of the transport department, said that 4,300 Glasgow platform staff would be affected by the Board's recommendation.