4 slippery
31st May 1968
Page 13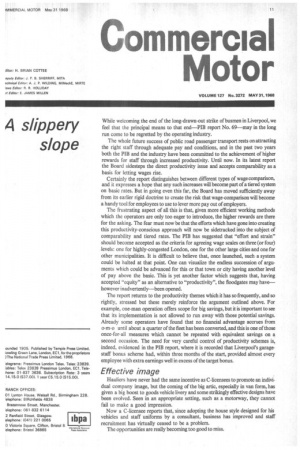 Page 13, 31st May 1968 —
4 slippery
Close
slope
While welcoming the end of the long-drawn-out strike of busmen in Liverpool, we feel that the principal means to that end—PIB report No. 69—may in the long run come to be regretted by the operating industry.
The whole future success of public road passenger transport rests on attracting the right staff through adequate pay and conditions, and in the past two years both the PIB and the industry have been committed to the achievement of higher rewards for staff through increased productivity. Until now. In its latest report the Board sidesteps the direct productivity issue and accepts comparability as a basis for letting wages rise.
Certainly the report distinguishes between different types of wage comparison, and it expresses a hope that any such increases will become part of a tiered system on basic rates. But in going even this far, the Board has moved sufficiently away from its earlier rigid doctrine to create the risk that wage-comparison will become a handy tool for employees to use to lever more pay out of employers.
The frustrating aspect of all this is that, given more efficient working methods which the operators are only too eager to introduce, the higher rewards are there for the asking. The fear must now be that the efforts which have gone into creating this productivity-conscious approach will now be sidetracked into the subject of comparability and tiered rates. The PIB has suggested that "effort and strain" should become accepted as the criteria for agreeing wage scales on three (or four) levels: one for highly-congested London, one for the other large cities and one for other municipalities. It is difficult to believe that, once launched, such a system could be halted at that point. One can visualize the endless succession of arguments which could be advanced for this or that town or city having another level of pay above the basic. This is yet another factor which suggests that, having accepted "equity" as an alternative to "productivity", the floodgates may have— however inadvertently—been opened.
The report returns to the productivity themes which it has so frequently, and so rightly, stressed but these merely reinforce the argument outlined above. For example, one-man operation offers scope for big savings, but it is important to see that its implementation is not allowed to run away with those potential savings. Already some operators have found that no financial advantage accrues from o-m-o until about a quarter of the fleet has been converted, and this is one of those once-for-all measures which cannot be repeated with equivalent savings on a second occasion. The need for very careful control of productivity schemes is, indeed, evidenced in the PIB report, where it is recorded that Liverpool's garagestaff bonus scheme had, within three months of the start, provided almost every employee with extra earnings well in excess of the target bonus.
Effective image
Hauliers have never had the same incentive as C-licensees to promote an individual company image, but the coming of the big artic, especially in van form, has given a big boost to goods vehicle livery and some strikingly effective designs have been evolved. Seen in an appropriate setting, such as a motorway, they cannot fail to make a good impression.
Now a C-licensee reports that, since adopting the house style designed for his vehicles and staff uniforms by a consultant, business has improved and staff recruitment has virtually ceased to be a problem.
The opportunities are really becoming too good to miss.