AWD wins MoD order
31st March 1988
Page 15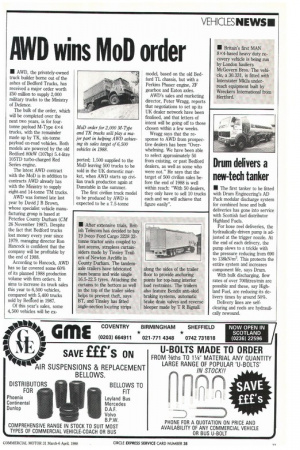 Page 15, 31st March 1988 —
AWD wins MoD order
Close
• AWD, the privately-owned truck builder borne out of the ashes of Bedford Trucks, has received a major order worth E50 million to supply 2,000 military trucks to the Ministry of Defence.
The bulk of the order, which will be completed over the next two years, is for fourtonne payload M-Type 4 x4 trucks, with the remainder made up by TK, six-tonne payload on-road vehicles. Both models are powered by the old Bedford 80kW (107hp) 5.4-litre 105TD turbo-charged Red Series engine.
The latest AWD contract with the MoD is in addition to contracts AWD already has with the Ministry to supply eight-and 14-tonne TM trucks.
AWD was formed late last year by David J B Brown, whose specialist vehicle manufacturing group is based at Peterlee County Durham (CM 26 November 1987). Despite the fact that Bedford trucks lost money every year since 1979, managing director Ron Hancock is confident that the company will be profitable by the end of 1988.
According to Hancock, AWD has so far covered some 60% of its planned 1988 production volume with firm orders. It aims to increase its truck sales this year to 6,500 vehicles, compared with 5,400 trucks sold by Bedrord in 1987.
Of this year's sales, some 4,500 vehicles will be ex ported; 1,500 supplied to the MoD leaving 500 trucks to be sold in the UK domestic market, when AWD starts up civilian truck production again at Dunstable in the summer.
The first civilian truck model to be produced by AWD is expected to be a 7.5-tonne model, based on the old Bedford TL chassis, but with a Perkins Phaser engine, ZF gearbox and Eaton axles.
AWD's sales and marketing director, Peter Wragg, reports that negotiations to set up its UK dealer network have been finalised, and that letters of intent will be going off to those chosen within a few weeks.
Wragg says that the response to AWD from prospective dealers has been "Overwhelming. We have been able to select approximately 50 from existing, or past Bedford dealers, as well as some who were not." He says that the target of 500 civilian sales before the end of 1988 is well within reach: "With 50 dealers, they only have to sell 10 trucks each and we will achieve that figure easily".