Are We Propagandists ?
31st March 1944
Page 16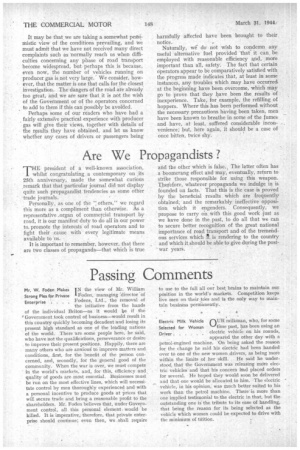 Page 16, 31st March 1944 —
Are We Propagandists ?
Close
MHE president of a well-known association, 'whilst congratulating a contemporary on its 25th anniversary, made the somewhat curious .remark that that particular journal did not display quite such propagandist tendencies as some other • trade journals.
Personally, as one of the others," we regard this more as a compliment than otherwise. As a representative -organ of commercial transport by road, it is our manifest duty to do all in our power to. promote the interests' of road operators and to fight their cause with every legitimate means available to us.
It is important to remember, however, that there are two classes of propaganda—that which is true and the other which is false., The latter often has a boomerang effect and may, eventually, return to strike those responsible for using this weapon. Therefore, whatever propaganda we indulge in is founded on facts. That this is the case is proved by the beneficial results. which are frequently obtained, and the remarkably ineffective opposition which it engenders. Consequently, we propose to carry On With this good work just as we have done in the past, to do all that we can to secure better recognition of the great national importance of road transport and of the tremendous services which a is rendering to the country and which it should be able to give during the post war years.