Foreigners should follow UK regs
31st July 2008
Page 7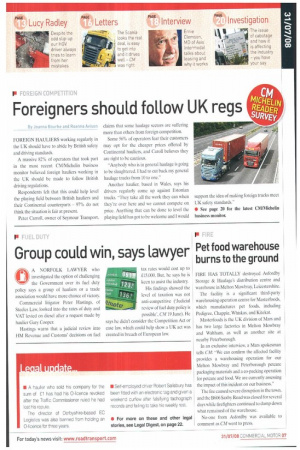 Page 7, 31st July 2008 —
Foreigners should follow UK regs
Close
By Joanna Bourke and Roanna Avlson
FOREIGN HAULIERS working regularly in the UK should have to abide by British safety and driving standards.
A massive 82% of operators that took part in the most recent CM/Michelin business monitor believed foreign hauliers working in the UK should be made to follow British driving regulations.
Respondents felt that this could help level the playing field between British hauliers and their Continental counterparts 97% do not think the situation is fair at present.
Peter Carroll, owner of Seymour Transport. claims that some haulage sectors are suffering more than others from foreign competition.
Some 56% of operators fear their customers may opt for the cheaper prices offered by Continental hauliers, and Caroll believes they are right to be cautious.
"Anybody who is in general haulage is going to be slaughtered. I had to cut back my general haulage trucks from 1010 one."
Another haulier, based in Wales. says his drivers regularly come up against Estonian trucks. "They take all the work they can when they're over here and we cannot compete on price. Anything that can be done to level the playing field has got to be welcome and I would support the idea of making foreign trucks meet UK safety standards."
• See page 20 for the latest CM/Michelin business monitor.