A sense of realism
31st July 2008
Page 51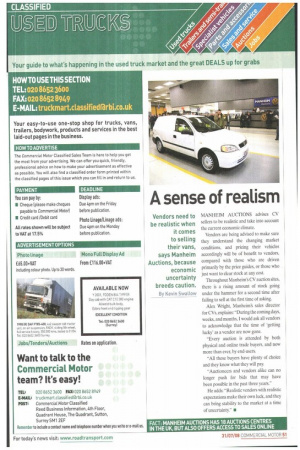 Page 51, 31st July 2008 —
A sense of realism
Close
Vendors need to be realistic when it comes to selling their vans, says Manheim Auctions, because economic uncertainty breeds caution. By Kevin Swallow MANHEIM AUCTIONS advises CV sellers to be realistic and take into account the current economic climate.
Vendors are being advised to make sure they understand the changing market conditions, and pricing their vehicles accordingly will be of benefit to vendors, compared with those who are driven primarily by the price guides, or those who just want to clear stock at any cost.
Throughout Manheim's CV auction sites, there is a rising amount of stock going under the hammer for a second time after failing to sell at the first time of asking.
Alex Wright, Manheim's sales director for CVs, explains: "During the coming days, weeks, and months, I would ask all vendors to acknowledge that the time of 'getting lucky' as a vendor are now gone.
"Every auction is attended by both physical and online trade buyers, and now more than ever, by end-users.
"All these buyers have plenty of choice and they know what they will pay.
"Auctioneers and vendors alike can no longer push for bids that may have been possible in the past three years."
He adds: "Realistic vendors with realistic expectations make their own luck, and they can bring stability to the market at a time of uncertainty." •