Wake up call
31st July 2008
Page 44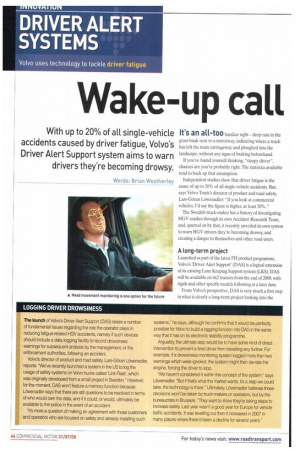 Page 45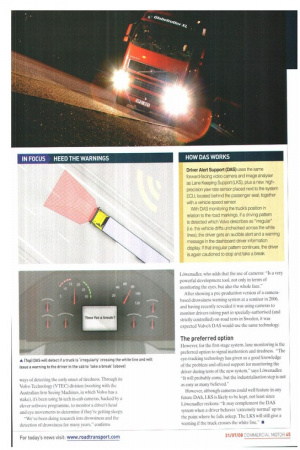 Page 44, 31st July 2008 —
Wake up call
Close
Keywords :
Transport
,
Land Transport
,
Road Transport
,
Car Safety
,
Lane
,
Traffic Collision
,
Warning Systems
,
Lane Departure Warning System
,
Driver Drowsiness Detection
,
Technology / Internet
,
Disaster / Accident
With up to 20% of all single-vehicle accidents caused by driver fatigue, Volvo's Driver Alert Support system aims to warn drivers they're becoming drowsy.
Words: Brian Weatherley It's an all-too familiar sight—deep ruts in the grass bank next to a motorway, indicating where a truck has left the main carriageway and ploughed into the landscape, without any signs of braking beforehand.
If you've found yourself thinking, "sleepy driver", chances are you're probably right. The statistics available tend to back up that assumption.
Independent studies show that driver fatigue is the cause of up to 20% of all single-vehicle accidents. But. says Volvo Truck's director of product and road safety, Lars-GOran Lbwenadler: "If you look at commercial vehicles, I'd say the figure is higher, at least 30%."
The Swedish truck-maker has a history of investigating HGV crashes through its own Accident Research Team, and, spurred on by that, it recently unveiled its own system to warn HGV drivers they're becoming drowsy, and creating a danger to themselves and other road-users.
A long-term project
Launched as part of the latest FH product programme, Volvo's 'Driver Alert Support' (DAS) is a logical extension of its existing Lane Keeping Support system (LKS). DAS will be available on 4x2 tractors from the end of 2008, with rigicis and other specific models following at a later date.
From Volvo's perspective, DAS is very much a first step in what is clearly a long-term project looking into the ways of detecting the early onset of tiredness. Through its Volvo Technology (VTEC) division (working with the Australian firm Seeing Machines, in which Volvo has a stake), it's been using hi-tech in-cab cameras, hacked by a clever software programme. to monitor a driver's head and eye movements to determine if they're getting sleepy.
"We've been doing research into drowsiness and the detection of drowsiness for many years," confirms Lowenadler, who adds that the use of cameras: "Is a very powerful development tool, not only in terms of monitoring the eyes, but also the whole face."
After showing a pre-production version of a camerabased drowsiness warning system at a seminar in 2006, and having recently revealed it was using cameras to monitor drivers taking part in specially-authorised (and strictly controlled) on-road tests in Sweden, it was expected Volvo's DAS would use the same technology.
The preferred option However, for the first-stage system, lane monitoring is the preferred option to signal inattention and tiredness. "The eye-tracking technology has given us a good knowledge of the problem and offered support for monitoring the driver during tests of the new system," says Lowenadler. "It will probably come, but the industrialisation step is not as easy as many believed."
However, although cameras could well feature in any future DAS, LKS is likely to be kept, not least since LOwenadler reckons: "It may complement the DAS system when a driver behaves 'extremely normal' up to the point where he falls asleep. The LKS will still give a warning if the truck crosses the white line." •