LOGGING DRIVER DROWSINESS
31st July 2008
Page 44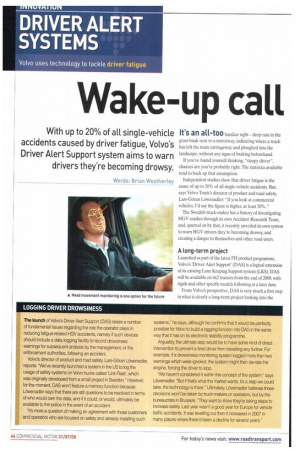 Page 44, 31st July 2008 —
LOGGING DRIVER DROWSINESS
Close
The launch of Volvo's Driver Alert Support (DAS) raises a number of fundamental issues regarding the role the operator plays in reducing fatigue-related HGV accidents, namely if such devices should include a data logging facility to record drowsiness warnings for subsequent analysis by the management. or the enforcement authorities, following an accident.
Volvo's director of product and road safety, Lars-Garen Lawenadler, reports: 'We've recently launched a system in the US to log the usage of safety systems on Volvo trucks called 'Link Fleet', which was originally developed from a small project in Sweden." However. for the moment, DAS won't feature a memory function because Lawenadler says that there are still questions to be resolved in terms of who would own the data, and if it could, or would, ultimately be available to the police in the event of an accident.
"It's more a question of making an agreement with those customers and operators who are focused on safety and already installing such systems," he says, although he confirms that it would be perfectly possible for Volvo to build a logging function into DAS in the same way that it has on its electronic stability programme.
Arguably, the ultimate step would be to have some kind of direct intervention to prevent a tired driver from travelling any further. For example, if a drowsiness monitoring system logged more than two warnings which were ignored, the system might then de-rate the engine, forcing the driver to stop.
"We haven't considered it within the concept of the system," says Lawenadler. "But if that's what the market wants, it's a step we could take, the technology is there." Ultimately, Lowenadler believes those decisions won't be taken by truck-makers or operators, but by the bureaucrats in Brussels. "They want to show they're taking steps to increase safety. Last year wasn't a good year for Europe for vehicle traffic accidents. It was levelling out then it increased in 2007 in many places where there'd been a decline for several years."